Cynthia Quintero
Professor, World Languages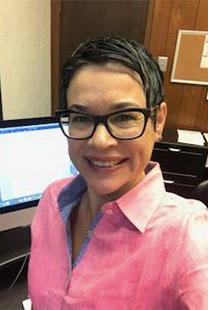 Dr. Cynthia A. Quintero is a native of San Diego. She first moved to the Orange County area of Irvine when she started her undergraduate career at UC Irvine. Dr. Quintero received a B.A. in Spanish Language with an emphasis in Bilingual Education, a Minor in English Literature, and a Single Subject Teaching Credential in Spanish, both from UC Irvine. She received a Master's degree in Spanish from Cal State Long Beach and a Ph.D. in Spanish from UC Irvine with an emphasis in Chicano/a Literature. Dr. Quintero's dissertation examines issues of gender, identity, and sexuality in works written by Chicana authors, while also examining how Chicana's negotiate identities in their communities.
Dr. Quintero has a wide range of teaching experiences, from teaching adult ESL to teaching at the high school level. She has taught at a number of post-secondary institutions such as Chapman University, Cal State Fullerton, UC Irvine, and El Camino Community College. At each of these colleges/universities, Dr. Quintero has taught a wide range of language and literature courses, such as all levels of the Spanish language; Spanish Conversation & Writing; U.S. Latino/a and Chicano/a Literature; Spanish-American Cinema and Historical Representation, among others. In addition to her teaching assignments, Dr. Quintero has presented at several local conferences and is an active member of the American Association of Teachers of Spanish and Portuguese, the National Association for Chicana and Chicano Studies, and the Modern Language Association. Dr. Quintero curated the Latin American Film Festival in 2009-2010 at UC Irvine and was a co-organizer of the 10th Annual Mexican Conference hosted at UC Irvine in 2007-2008. In 2000, Dr. Quintero was awarded a National Endowment for the Humanities Grant, allowing her to work with and collaborate with professors from the United States to produce a document on Heritage Language speaker's language acquisition.
Dr.Quintero is delighted to have joined the Long Beach City College community and looks forward to a bright future at LBCC.