Foster Care Awareness Month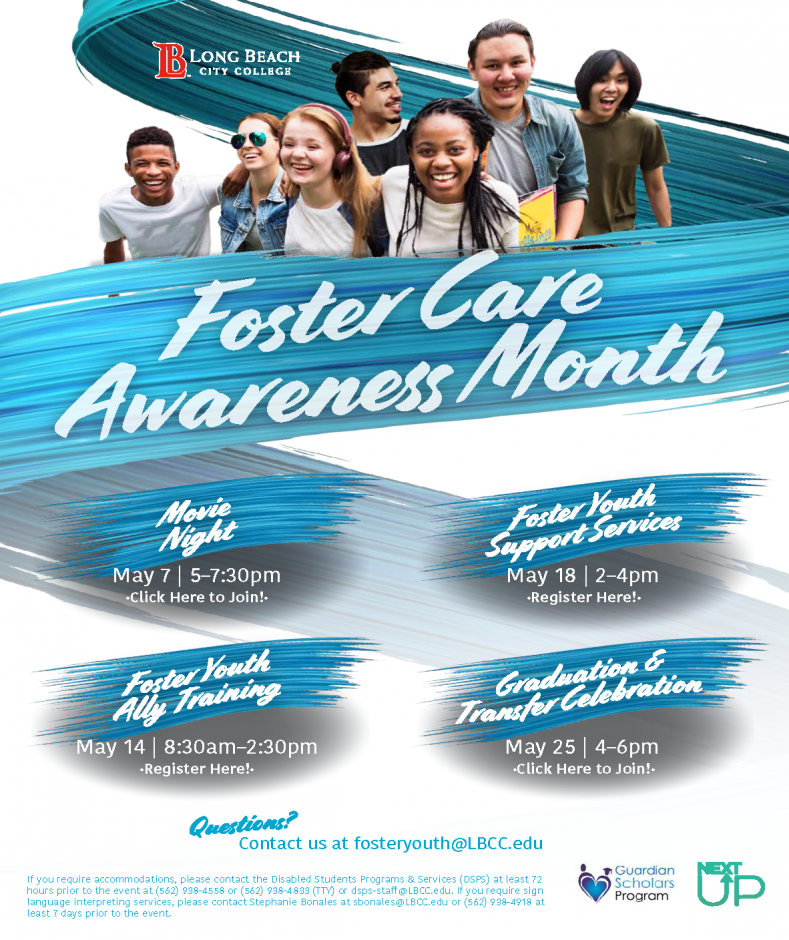 May 7
Movie Night
5:00pm -7:30pm
https://lbcc-edu.zoom.us/j/91283431616
Instant Family- When Pete (Mark Wahlberg) and Ellie (Rose Byrne) choose to start a family, they stumble
headfirst into the world of foster care adoption. After they learn their perfect foster child comes with
two other siblings, Pete and Ellie find themselves speeding from zero to three kids overnight and must
hilariously learn the ropes of instant parenthood if they hope to become a real family. Inspired by a true
story, and also starring Octavia Spencer and Tig Notaro.
May 14
Foster Youth Ally Training (Flex available for Faculty)
8:30am- 2:30pm
https://lbcc-edu.zoom.us/meeting/register/tJEpf-GgrzwoGtJ_Ji6tC5WDqyLla7dPXZvq
The Foster Youth Ally training was created to provide information and resources to promote an inclusive
and welcoming climate for students, staff, and faculty who have lived-experience in foster care, reduce
the stigma of foster care, increase awareness of the foster care community and resources, and create a
connection between trauma, learning, and development. It will further clarify the role of a Foster Youth
Ally in supporting and advocating for our children and youth in foster care. The training is based on the
book, It's Not Drama, It's Trauma: A Guide To Empathetic Trauma-informed Engagement With Foster
Youth For Higher Education Professionals.
May 18
Foster Youth Support Services (Flex available for Faculty)
2:00pm- 4:00pm
https://lbcc-edu.zoom.us/meeting/register/tJAuduyppjovEtUi0aI4OmRrgtDy-V0ughuQ
LBCC offers two programs for foster youth: NextUp and Guardian Scholars. This workshop will go over
foster youth data, as well as programs and support services at LBCC for foster youth. Additionally, there
will be a panel of current/former foster who will share their stories and how faculty/staff can support
their success.
May 25
Graduation & Transfer Celebration
4:00pm- 6:00pm
https://lbcc-edu.zoom.us/j/96426022153
NextUp and Guardian Scholars will celebrate the accomplishments of students who are graduating
and/or transferring along with their guests and hear from a panel of students who have transferred to a
university.
---
GENERAL ANNOUNCEMENT:
If you require accommodations, please contact the Disabled Students Programs & Services (DSPS) at least 72 hours prior to the event at (562) 938-4558 or (562) 938-4833 (TTY) or dsps-staff@lbcc.edu. If you require sign language interpreting services, please contact Stephanie Bonales at sbonales@lbcc.edu or (562) 938-4918.
If you require Communication Access Realtime Translation (CART) services, please contact Sunita Shelly: sshelly@lbcc.edu / 562.938.4947 or Sonia Leticia Vélez: svelez@lbcc.edu at least 5 business days prior to the event. Please note requests are based on provider availability, the more advance notice the better.