Admissions & Records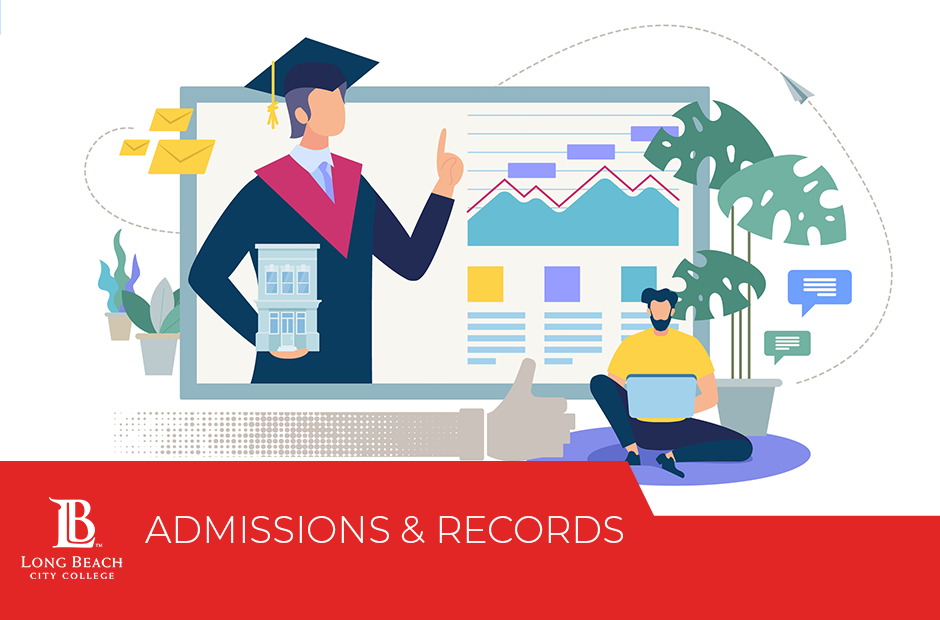 The Admissions and Records Office is currently closed and is tentatively planned to reopen on June 8, 2020. You can find the answers to many questions here on our website: https://www.lbcc.edu/admissions-aid.
Submitting a Form
If you must submit a form during this campus closure, you may submit the form ONLY, no additional documents, to admissions@LBCC.edu. If you are sending the form from your official campus email on file with Long Beach City College, no signature is required.
Ordering Transcripts
Transcripts can be ordered online: https://www.credentials-inc.com/tplus/?ALUMTRO001219
Sending your College Transcript to LBCC
If you are interested in sending an official transcript to Long Beach City College, please select the electronic delivery option (if available) this will ensure we are able to receive your transcript during the campus closure. Transcripts sent by mail will be reviewed tentatively on June 8, 2020.
Summer Registration Date
Summer registration will now begin on April 27, 2020.
Fall Registration Dates
Registration for Fall 2020 will start on June 1, 2020. This date may be subject to change. For updated information, please visit the Admissions and Records website. https://www.lbcc.edu/pod/important-dates
Admissions Applications
During this closure, Admissions Applications will still be processed. After you have submitted your application, please allow 48 hours to receive an email with your campus ID and further instructions.
Additional Questions
You may call (562) 938-4485 or you may email admissions@lbcc.edu.
Grading & Refund Options
We hope you are staying safe and healthy during this time. We want to provide you an update on grading and refund options in light of Covid-19. These updates are for classes taken in the Spring 2020 semester only.
Pass/No Pass
There are 2 ways to change the grading option for your class to Pass/No Pass up until May 27, 2020.
Class is found in your Viking Portal. In your Viking Portal, click on the "Manage Classes" tile. On the left-hand side, click on "Update Grading Basis," classes that are available to be updated electronically will be listed there. If you do not see your class listed there, proceed to option B.
If the class is not found in your Viking Portal, you may turn in a form. The Pass/No Pass form requires you to consult with a counselor before turning in the form. This consultation is to help ensure that changing the grading option to Pass/No Pass is the appropriate choice to support your academic progress. After your counselor consultation, a counselor can support the submission of the approved Pass/No Pass form to Admissions and Records or you may submit the approved form to admissions@lbcc.edu
W/EW
You may withdraw 'W' from your course(s) in your Viking Portal up until May 27, 2020. Due to the impact of Covid-19, the 'W' grade will be changed to an Excused Withdraw 'EW' grade at the end of the spring semester. If you are not using the California Promise Grant or Financial Aid, you will automatically be approved and issued a refund.
How will this impact Financial Aid? Due to changes from the Federal government for this spring 2020 semester only, this will not impact you. It will not trigger a repayment or negatively impact your Satisfactory Academic Progress (SAP).
How will this impact my academic records? The 'EW' does not count towards academic progress probation and does not count as a repeated class.
Dropping without a W/EW (no course notation on the transcript)
If you are not using the California Promise Grant or Financial Aid, you may request a refund of your enrollment fees. The form can be found on the Admissions and Records website. The form does not require additional documentation for the Spring 2020 semester.
Refunds
Refunds are not available to students with a CA Promise Grant or Financial Aid. For students not receiving financial aid, LBCC is determining the process for refunds. All course/enrollment fees will be refunded at 100%. All other fees will be refunded at 60% pro-rated rate. We will have more information regarding next steps and timeline in an upcoming email.
Types of Refunds for Students Not Receiving Financial Aid
Course Fees-100% Refund
Materials Fees-60% Refund
Parking Fees-60% Refund
ASB, Health, & Student Rep Fees-60% Refund, if a student drops all courses
Note: Refunds currently apply to California residents and will apply to fees paid only.
Let Us Help Catch You Before You Drop
It's true that online classes can be a difficult adjustment, especially when it wasn't expected. But LBCC wants to remind you that we are here to help. If you are thinking about dropping a class, please consider that doing so can affect your entire educational plan. So, before you drop consider utilizing these options first:
Contact your Instructor for their suggestions.
Use our online tutoring services. You can email the Writing & Reading Center at wrsc@lbcc.edu and put "tutoring" in the subject line. The Math Success Center is hosting online tutoring and will begin offering private online tutoring with Net-Tutor by the end of this week. Visit www.lbcc.edu/tutoring for a schedule of Science tutoring activities. Email to make a tutoring appointment for a science class at tutoring@lbcc.edu
Talk with a LBCC academic counselor.
LBCC Counselors will be available via remote access throughout Spring Break next week. Take advantage of this time that you won't be meeting online with your classes to work with an academic counselor online. You may also email fcounter-lac@LBCC.edu for assistance.
For more information, please visit our website at https://www.lbcc.edu/covid-19-info-students.