Heavy Duty Pre-Apprenticeship
Learn about engine fundamentals & maintenance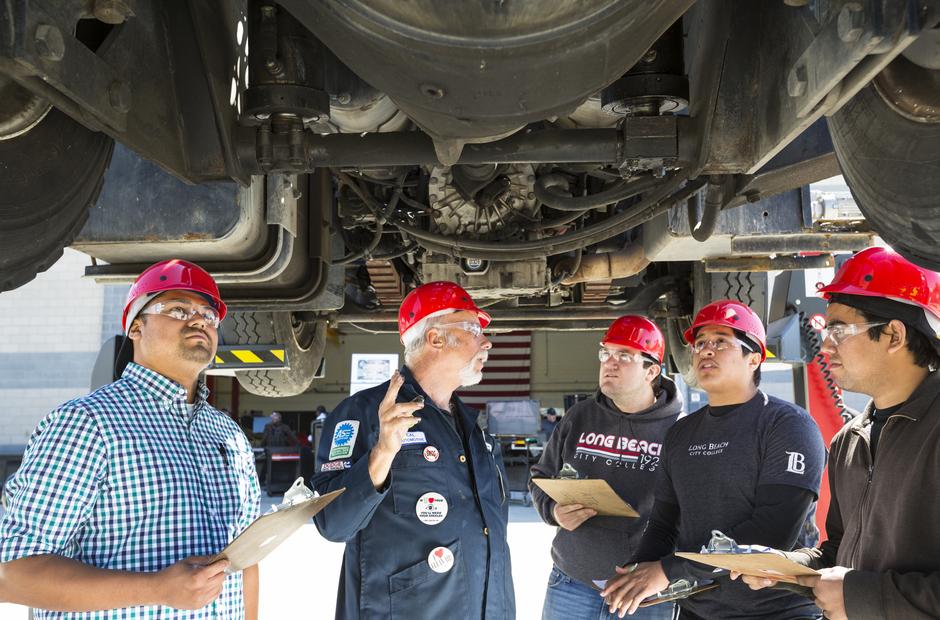 LBCC is proud to announce a new Heavy Duty Pre-Apprenticeship program in partnership with Quinn and SA Recycling. This program is a free 10-week long practical application and training course which will cover engine fundamentals, schematics, diagnostics, OSHA safety, control circuits, electrical systems, preventative maintenance, and hydraulic principles as they relate to heavy duty equipment.
This program is good for anyone interested in learning about heavy duty equipment maintenance as a career. The need for Heavy Duty Equipment Mechanics is projected to grow by 23% by 2024, and the median wages for trained and qualified individuals is $26.75/hr. Prepare yourself for this fast-growing occupation by signing up for this program today!
This program will begin in February of 2018. If you would like RSVP for an orientation, please email Workforce Development or sign up on our waitlist. Students who successfully complete this program and both apply and qualify for Quinn's apprenticeship program may receive additional paid training and employment.
Eligibility
18 years or older.
Right-to-work documents.
Attend an orientation to complete registration and LBCC enrollment through the Workforce Development Office.
Pass an intake interview and assessment.
Potential Job Opportunities
HD Mechanic
HD Technician
Orientation Dates
| Date | Time |
| --- | --- |
| Tuesday, Oct. 23 | 2:00 pm – 4:00 pm |
| Monday, Nov. 5 | 2:00 pm – 4:00 pm |
| Thursday, Nov. 15 | 10:00 am – 12:00 pm |
| Thursday, Nov. 29 | 2:00 pm – 4:00 pm |
| Thursday, Dec. 6 | 10:00 am – 12:00 pm |
| Tuesday, Dec. 11 | 2:00 pm – 4:00 pm |
Orientations will be held in Building O-2 on the LAC campus.