Promise 2.0
For LBUSD Students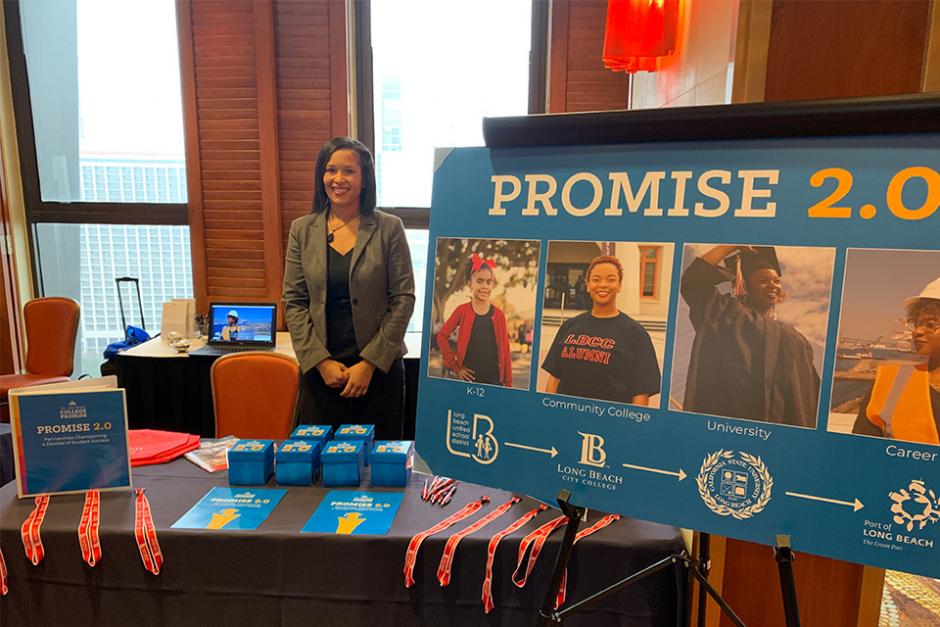 What is the Promise 2.0?
The Long Beach College Promise 2.0 is a guaranteed transfer admission pathway to California State University Long Beach (CSULB) and is available for the following 10 majors:
Psychology
Communication Studies
Business Administration
(Finance, Accounting, Human Resource Management, Marketing, Info Systems, International Business)
Criminology & Criminal Justice (LBCC Major Name: Administration of Justice)
English
Mechanical & Aerospace Engineering
Computer Engineering & Computer Science
History
Studio Art
(All BA Options – Fiber, Metals & Wood, Ceramics, Drawing & Painting, Graphic Design, Illustration & Animation, Photography, Printmaking, Sculpture, Art Education)
Liberal Studies, Education (LBCC Major Name: Elementary Teacher Education)
Promise 2.0 students will have access to:
Dual Advisement from LBCC Counselors and CSULB Academic Advisors.
Goal Clarification and Career Exploration Opportunities.
A "future student" CSULB ID card while attending LBCC. With the future student ID card students will gain access to select CSULB Athletic events, the CSULB library, and select student clubs and organizations.
Additional Requirements for Promise 2.0:
Must attend an in-person orientation at CSULB.
Complete the Promise 2.0 student agreement.
Take a prescriptive set of courses to transfer to CSULB.
Meet all eligibility requirements for transfer to CSULB.
Complete the participation agreement (DEADLINE: 9/3/21, Exceptions made for extenuating circumstances only, contact the Welcome Center).
Must be a CA resident.
Promise 2.0 admits students in the Fall semester only.
Exceptions made for extenuating circumstances only, contact the Welcome Center.
Applying for the LB College Promise or Promise 2.0
You can complete and submit the student participation agreement within your Viking Student System. Please note that there is a separate agreement for Long Beach College Promise and Promise 2.0.
Go to https://www.lbcc.edu.
Hover over Quicklinks.
Select Viking Student Login.
Enter your log-in credentials.
Once logged in, go to your Student Center page
Under LBCC Important Information you will see a link to Participation Agreement.
Select Participation Agreement and click View.
Read and submit the agreement.
Comparison Chart
Viking Advantage
LB College Promise
Promise 2.0
1st Year Free
×
×
×
2nd Year Free
×
×
1st Year
(Experience Programming)
×
×
×
2nd Year
(Career Development & Mentoring)
×
×
×
Priority Registration for Fall & Spring Semesters
×
×
×
Transfer Admissions Pathways to Specific Majors at CSULB
×
Dual Advisement & Future Student Benefits w/ CSULB
×
Open to All First-Time/Full-Time College Students
×
Open to LBUSD Students Who Enroll Full-time
×
×
CA Resident
×
×
×
All students must sign the agreement to their program in order to participate.