Five Generations of One Family Attend LBCC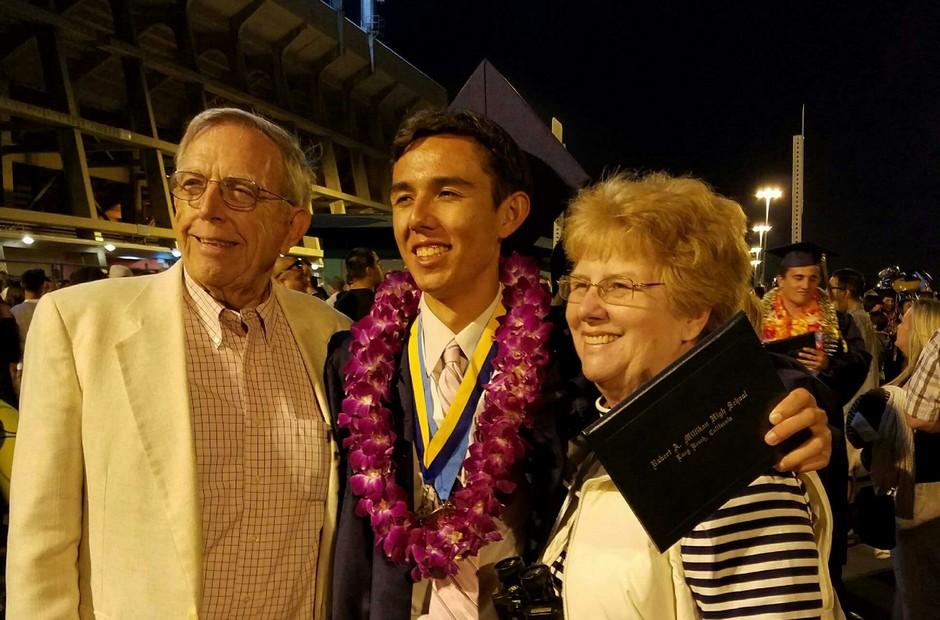 When Loyd V. Wilcox enrolled at Long Beach City College, it was at a time when many veterans had just returned from the war. Back then it was the Korean War, and it was 1955.
"It was a different world," the 78-year-old recalled.
The campus was predominately men, most of the current buildings hadn't even been built, and it cost a mere $100 for fees and books for one semester, Wilcox said.
"The most expensive book was a chemistry book that was $7.00," he remembered.
Wilcox went on to study at UC Berkeley for awhile, but he earned his B.A. and master's degree at California State University, Long Beach. He also had a fellowship at Stanford University.
"The best teaching I received was at Long Beach City and at Stanford," said Wilcox, who became a teacher himself at Golden West College. There he taught mathematics for more than 40 years and remembers a young Eloy Ortiz Oakley, former LBCC Superintendent-President and current Chancellor of the California Community Colleges.
"[He] was a student at Golden West while I was there. He took a class from my colleague," said Wilcox, who was born and raised in Long Beach.
Long Beach City College is a true reflector of the people and the area…Diversity brings about growth.
With deep family roots in Long Beach since the early 1900s, Wilcox's family also has deep roots at LBCC.
His father, Richard Wilcox, attended LBCC in 1933 (the year of the Long Beach earthquake) and earned his associate degree. Before him, Loyd's great uncle Paul B. Wilcox attended LBCC for a semester before transferring to a university.
Loyd continued to pass on the Viking tradition to his children. Both of his daughters, Shelly Hamagishi and Sandra Hensley, attended LBCC before transferring to CSULB.
And now, Loyd's grandson, Alex Hamagishi, is starting at LBCC this fall. This makes five generations of Wilcoxes to attend LBCC.
Alex, a Promise Pathways student, said he plans to study Fire Science and transfer to CSULB to earn a degree in public administration. He wants to be a firefighter in Long Beach.
Enrolling at LBCC was a no-brainer for Alex, as he grew up with the college as a part of his life. He said he decided to attend LBCC because he wasn't quite ready to leave home and wanted to save money on his education.
"When I was younger, my mother took me over to feed the bunnies when [LBCC had] the giant bunny problem," he said.
Alex also watched Vikings baseball games and went on a few LBCC Foundation Travel Tours with his grandfather.
"[LBCC has] always been in the household," Alex said. "I always had the awareness [of it], that it was an option."
Alex's grandfather Loyd continues to be an ongoing supporter of the college. For the past few years, he has been a Governor of the Long Beach City College Foundation.
Loyd and his wife, Ginnie, have endowed an LBCC scholarship, the Shirley Baker Memorial Scholarship, in honor of Ginnie's late mother, who also attended LBCC.
So why do the Wilcoxes keep coming back to LBCC?
"We're very pro-education," Loyd said.
He said that the aspects he likes best about the college is its ability to keep academic and training programs up-to-date with the changing times and its diverse population and offerings.
"Long Beach City College is a true reflector of the people and the area," he said. "Diversity brings about growth. So that's what I think continues to make LBCC one of the outstanding colleges: diversity of opinion and ideas."