Resources
The Office of Academic Affairs provides leadership and support for instructional and academic programs at Long Beach City College. For more information regarding our services and college planning, please visit the following section on our archive site.
From marketing campaigns to board meetings, from college events to community appearances, from website announcements to personal interactions with campus visitors, the office of Communications & Community Engagement plays a critical role in advancing the mission of Long Beach City College.
Administrative Services facilitates the efficient and effective utilization of college resources to further the goal of student success and the educational mission of the college. We work proactively with all college constituents to aid in the implementation of the Strategic Plan and to integrate our professional expertise in the areas of Fiscal Services, Facilities, Instructional & Information Technology Services and Business Support Services to design and implement working solutions to operational and academic challenges.
The LBCC Human Resources team recruits, develops and protects the college's most valuable resource – its employees. The HR team is dedicated to attracting, retaining, and supporting a qualified diverse workforce in order to meet the educational needs of the students. The HR team does this by providing quality service to the internal and external campus community, and adhering to open, equitable and ethical personnel standards.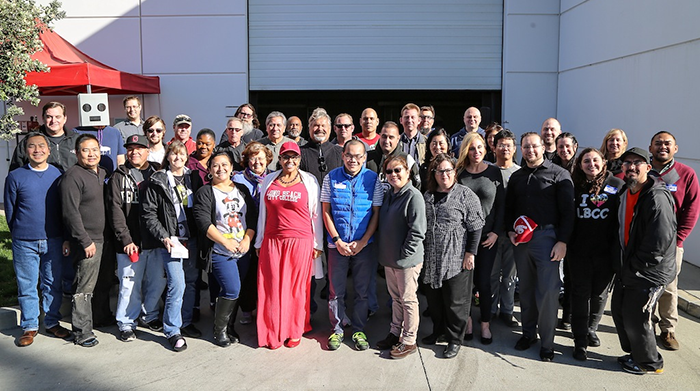 Mission Statement
Instructional and Information Technology Services (IITS) supports the campus, local and global communities through various technologies in accordance with the college's educational mission. We work proactively with all college constituents to integrate our professional expertise in the areas of:
Long Beach City College's many resources include its Child Development Center and Learning Lab, offering half-day and full-day preschool programs for children ages 2-5. The Center serves children of students, faculty, staff and the community, with locations at both the Liberal Arts Campus and the Pacific Coast Campus open year-round.
The mission of Veterans Services Office (VSO) is to provide a caring and supportive environment for veterans and their dependents as we assist them with the services they need for proper enrollment, receiving their VA benefits, and other resources necessary to succeed at Long Beach City College.
General Services
(562) 938-4910 or (562) 435-6711
Contact the Police Department for the following:
Safety Escorts
Keys locked in vehicles
Lost & Found
The LAC office is located in building X south of Lew Davis street. Business hours are Monday through Friday, 8:00 am to 5:00 pm. After business hours call the General Service number or 911 for an emergency.