LBCC to Host International Robotics Competition
Local team, VX Industries to participate in annual underwater ROV challenge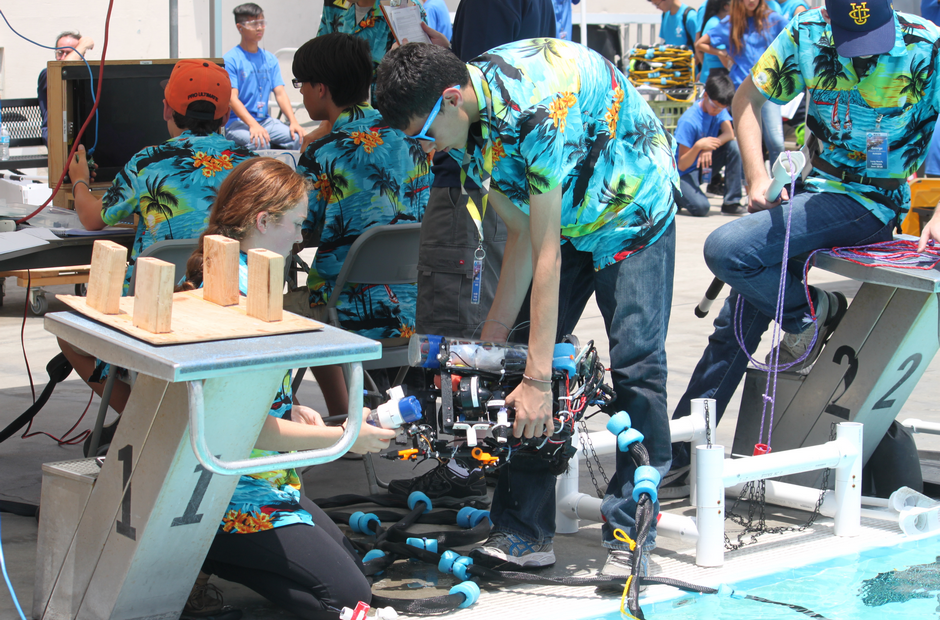 Long Beach City College will host this year's Marine Advanced Technical Education (MATE) center international student robotics competition June 23-25.
This year's competition is expected to draw hundreds of students from more than 60 teams from around the world. To qualify for this international event, many of the teams participated in 30 regional competitions that took place across the United States and around the world, including Canada, the United Kingdom, Russia, Southeast Asia, Hong Kong and the Middle East.
Each year, the competition focuses on real-world tasks and challenges relating to the host city. This year's competition theme is "Port Cities of the Future," and it will focus on the role remotely operated vehicles (ROVs) play in securing the safety of seaports. Students will operate their ROVs to handle tasks that include finding cargo containers that fell overboard, constructing an underwater tunnel and cleaning up contaminated sediment.
"LBCC is thrilled to host the MATE International ROV competition this year," said LBCC Superintendent-President Reagan Romali. "We have a robust Robotics Program under our Electrical Department, and our location in a port city makes Long Beach City College a perfect fit to host this year. We look forward to welcoming the visiting students, their families, and teachers from around the world."
The MATE Center uses ROVs to get students excited and engaged in science, technology, engineering, and math, while also exposing them to related careers and how this technology is used in the real world. Each year, the MATE competition challenges students from K-12, community colleges, and universities to design and build underwater robots to complete missions that are based on scenarios from the workplace.
"I have students getting so engaged in underwater robots," said Scott Fraser, LBCC Electronics Department Head and Robotics Team Coach. He said that the real-world tasks the annual competition challenges teams to do are the same tasks these students faced later on in industry internships and jobs.
LBCC has been participating in this annual competition since 2004, missing only a handful of years and consistently placed in the top five, including sweeping the competition in 2009. This year, LBCC's team, VX Industries (the 'VX' stands for Viking Explorer), has seven students: Jorge Ceja, Bottreypich Chap, Myia Dickens, Kerwin Fredeluces, Edward Gonzalez, Michael Schubert and Jonathan Turner.
The competition will take place in the LBCC pool. Spectators will be able to watch the competition with an underwater view in Room T-1200. Viewers also can stream it live at The Marine Advanced Technology Education (MATE) Center.
Organized by MATE and supported by the Marine Technology Society's ROV Committee, the ROV competition also receives support from the National Science Foundation and other technology and education related organizations.