The LBCC Lending Program
What are Students Borrowing from LBCC? Tubas, Sewing Machines and Calculators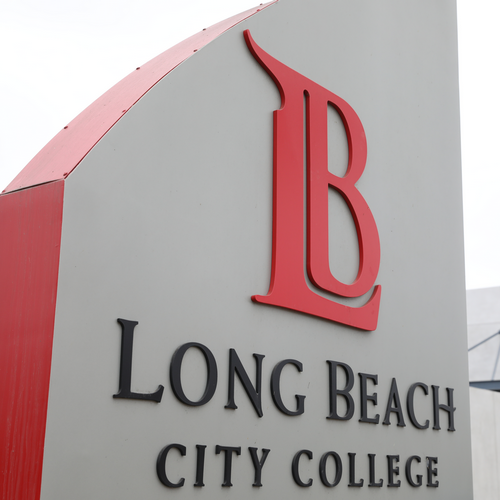 The average cost of a French Horn instrument is $4,500. A TI-84 CE plus graphing calculator is $150. The retail cost of a sewing machine is $300. Keeping up with your education during a pandemic is priceless. But for many students, the cost of purchasing a tool needed for their class might be too high.
Thanks to CARES act funding, some ingenuity and dedication from Long Beach City College faculty and staff, an elaborate lending program has taken shape to provide students with valuable yet required equipment to continue their education plans.
Students have been given the opportunity to borrow everything from xylophones and electric keyboards to clay and plaster through the LBCC lending program.
But coordinating the lending program required efforts from literally every angle of Long Beach City College including:
Faculty restructuring their lesson plans and polling students to see who is lacking in material and equipment
Deans and Business Services pricing, funding, ordering, and creating the contract loan agreement
Support staff organizing kits
Staff to help coordinate the distribution to students while following coronavirus protection protocol
Within the Fashion program, loaner sewing machines and kits of fabric, patterns, and other essentials for completing sewing and fashion design classes have been provided to students. Instructional Aid Joanna Rudolph has already been cutting fabric for the four sections of sewing classes that will be offered online in the Spring 2021 semester.
"We knew that if we didn't offer a feeder class into the fashion program, like beginning sewing, it wouldn't allow students to pursue our degree and certificate programs," said Fashion Design and Merchandise Instructor Pamela Knights. "We want to make sure our students can still progress and we don't want to hold back their graduation if we cannot offer certain classes."
Knights and Fashion Design and Merchandising Associate Professor Chantal Bryant have been recording instructional videos using the same Bernetta sewing machines that were purchased for students to utilize so that it is more effective to trouble-shoot over Zoom effectively.
"At first we thought this would all be impossible to teach," Knights added. But now that students are able to use the machines on their own extra time at home along with the videos to watch and re-replay, she reports that things are "going great."
For the Math and Music departments, loaning out calculators and some instruments are not unusual. However, the pandemic has again confirmed that the transportation challenge weighs heavily for students.
"A professional tuba would normally cost $10,000 to $12,000 and that's not easy to purchase or to put on a bus back home," said Director of Bands Brian Hamilton. "With distance learning, we have to try to make this function as well as possible. It's not normal, but we are trying to get as close as possible."
The Music Department has lent out flutes, French horns, marimbas, microphones and more during the campus closure. In addition, they are looking forward to receiving electric keyboards and audio equipment to help students in the near future.
According to Tutorial Program Coordinator Sean Dominguez, it was a lot more work than usual to lend the math calculators to the students.
"It was all worth it though. The students seemed more appreciative than when they were picking up the calculator in our center. 'Thanks for doing this for us' I heard several times," he said.
Interim Dean of the School of Science, Engineering, and Mathematics Moises Gutierrez, and Math Success Center Coordinator Sundee Dominguez also discovered the challenges of lending the calculators, primarily due to lack of transportation and students not checking their email. Both have worked to provide a variety of pick-up times outside of the parking structure to accommodate students with different working hours and who didn't have reliable transportation.
"Not all students check their email," Dominguez said. "I know that there are definitely more students who need to borrow a calculator, but just did not check their email."
In the past, Dominguez reports that students would drop math classes because they could not afford the calculator that was needed. "Most students rely on this program so they do not have to purchase a $150 calculator. Being able to provide the service during the pandemic though seems to be even more of a help when money seems to be extra tight," she said.
Gutierrez knows that students have better support with a tangible device. "All of the tutorial support material is based on the student/tutor/faculty approved devices we supply," he said, adding that students have been thankful and flexible with both borrowing and returning the lent items.
Praise has been strong across the departments for Deputy Director of Purchasing & Contracts Alan Maloney and Warehouse Logistics Manager Ricardo Harris for safely and thoughtfully coordinating efforts.
"Kudos to the Warehouse, to parking services and to Alan and Business Services. They were great," said Social Sciences and Arts Academic Administrative Assistant Esther Contreras, who worked with her colleagues in the Visual Media Arts program to create kits for art students this semester which included wheel bands, cement, markers, and paints.