ShakeOut! Don't Freak Out!
LBCC prepares campus-wide drills for participation in the Great California ShakeOut

Help us keep the Long Beach City College community prepared and safe by encouraging participation in this year's Great California ShakeOut annual earthquake drill.
LBCC's Great ShakeOut will conduct two drills this year on October 19, 2017. The first drill will start at approximately 10:19 am and the second drill will start at approximately 7:15 pm.
Millions of Californians will practice Drop, Cover, and Hold On, along with many others from across the nation and other countries.
Whenever there is an earthquake, always remember to do the following:
DROP to the ground (before the earthquake knocks you down).
Take COVER by getting under a sturdy desk or table (or cover your head with your arms).
HOLD ON to your shelter and be prepared to move with it until the shaking stops.
If there is no table or desk near you, drop to the ground and then if possible move to an inside corner of the room. Be in a crawling position to protect your vital organs and be ready to move if necessary, and cover your head and neck with your hands and arms. Do not move to another location or run outside.
Check out our Great California ShakeOut video to learn more!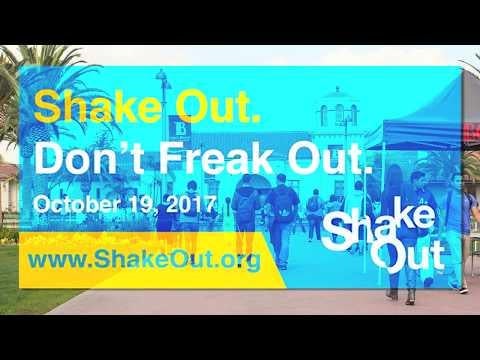 LBCC faculty can visit the official ShakeOut College website for California Colleges and view an instructional guide and a quick one-minute PowerPoint presentation that you can use to help your students after the drill.
There will be evacuation drills at PCC in Buildings AA, BB, DD, EE, QQ, and RR and at LAC in Buildings C, D and M, immediately after the ShakeOut (Drop, Cover, and Hold On) Drill.
To test our emergency notification system, you will be receiving email and text messages as the drill is in progress and once the all-clear signal is given.