College Day 2018
RESERVE YOUR LUNCH & ENTER THE RAFFLE
Keynote Speaker – Dr. Rob Johnstone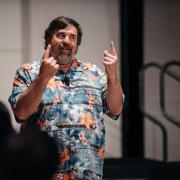 Dr. Johnstone works to help 2-year and 4-year colleges create structures and processes that increase student completion, learning and labor market outcomes. His unique & engaging approach to inquiry & improvement fuses the world of foundations, initiatives, and system-level policy changes with the ground-level work of college practitioners & college senior leaders.
He has worked on the ground with over 350 colleges around the country on initiatives such as the AACC Pathways Institutes, the Aspen Prize for Community College Excellence, the California Guided Pathways Initiative, Jobs for the Future's Student Success Centers in 14 states, Gates' Completion by Design, Lumina's Beyond Financial Aid, and directly with colleges on NCII's two-year Agency, Attitude and Intensive Implementation (A2I2) cohort model.
He served as a Director, Dean, and Provost in the California community college system for over a decade, and worked as a strategic consultant in industry prior to shifting to higher education. He brings a unique dual perspective with over 25 years of consulting experience in the industry and higher education and brings an energy and passion for authentic change to improve outcomes.
Kickoff Events
Time
Event
Location
8:00 am – 11:30 am
Morning Plenary (Snacks available)
LAC Quad Tent
11:30 am – 12:15 pm
Lunch
LAC Quad Tent
12:15 pm – 12:45 pm
Union and Constituents Meetings
Full-time Faculty – Quad Tent
Part-time Faculty – K-102
Classified – T-1200
Management – G-122
School/Division Meetings – 12:45 pm
Area
Host
Location
Academic Affairs/Academic Services
Dr. Kathy Scott
Michelle Grimes-Hillman
LAC, T-1046
Administrative Services
Marlene Dunn
LAC, T-1200
Social Sciences, Business & Arts
Dr. Lisa Orr
LAC, V-135
Health Kinesiology, Science & Math
Dr. Paul Creason
LAC, V-161
Human Resources
Gene Durand
LAC, T-1044
Language Arts & Communication
Lee Douglas
LAC, K-102
Library & Learning Resources
Jennifer Rodden
LAC, L-103
Student Support Services
Dr. Mike Munoz
Nordic Lounge
Career & Technical Education
Gene Carbonaro
LAC, F-110
Dept. Meetings – 1:30 pm
School/Dean
Dept.
Dept. Head
Location
Career & Technical Education
Gene Carbonaro
Child Development
COS
Culinary Arts
Family & Consumer Studies
Public Services
Trades & Industrial Technology
D. Van Sinden
M. Valceschini-Lynch
H. Nguyen
M. Fino
M. Biggs
S. Fraser
T-1319
M-116
V-137
F-117
T-2314
B-303B
Social Sciences, Business & Arts
Dr. Lisa Orr
Business Admin. & Economics
History & Political Science
Performing Arts
Social Sciences
Visual & Media Arts
M. McMullen
D. Lehman
A. Carreiro
D. Whittaker
S. Vure
T-2375
T-1300
G-118
T-1323
K-130
Health, Kinesiology, Science & Math
Allied Health
ADN
Kinesiology & Health Ed.
Life Science
Math & Engineering
Physical Science/Geography
VN
J. Steele
S. Sexton
C. Crook
H. Dy
J. Emigh, L. Barbee
M. Perrot
R. Alger
M-104
C-104
Q-106
D-226
V-161
D-314
C-124
Language Arts & Communication
Lee Douglas
Communication Studies
English
ESL
Foreign Languages
Reading
S. Habash
A. Starros
B. Elimelech
C. Quintero
T. Hotra
T-1326
M-218
T-1311
M-103
L-175
Library & Learning Resources
Jennifer Rodden
LAR
Library
H. Neu-Stevens
R. Sethuraman
L-212
L-103
Counseling
Nohel Corral
Counseling
L. Blouin
P. Huerta
B-203
Student Affairs
Ramon Knox
Student Affairs
E-202 (Valhalla)
Please check back on this page for updates.