CDC BUBBLE BALL
CDC Fundraiser Event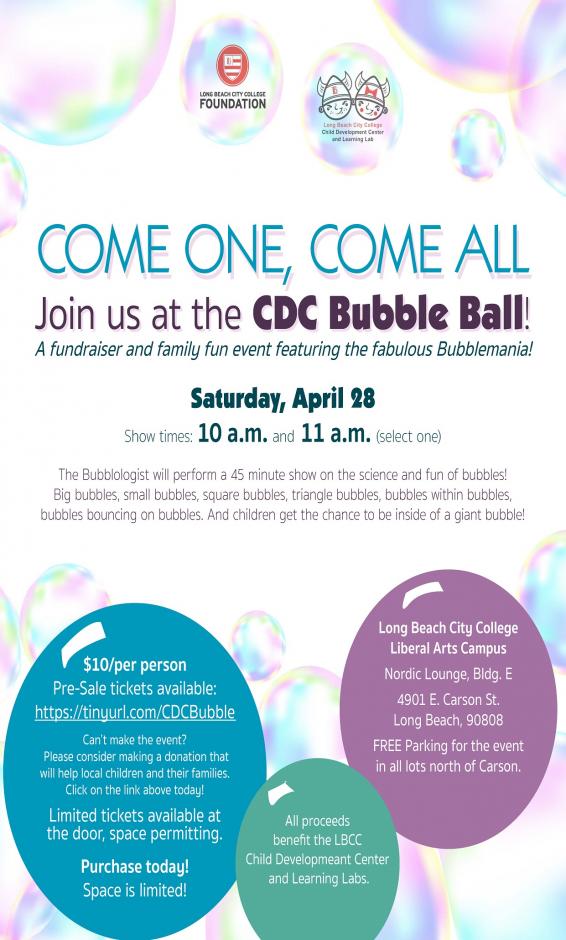 Saturday, 4/28/18
Show times: 10:00 AM &/OR 11:00 AM (select one)
Tickets on sale now at https://tinyurl.com/CDCBubble
A fundraiser and family fun event featuring the fabulous Bubblemania!
The Bubblologist will perform a 45 minute show on the science and fun of bubbles with shimmering waves of soap films, rainbow bubbles, big bubbles, small bubbles, square bubbles, triangle bubbles, bubbles within bubbles, bubbles bouncing on bubbles, giant bubbles etc… and the grand finale where children get the chance to be inside of a giant bubble! Participants will learn about reflection, refraction, surface tension and many other soap bubbles properties!
Long Beach City College Liberal Arts Campus
4901 E. Carson St.
Long Beach, 90808
Nordic Lounge – Bldg. E (Indoors)
https://www.youtube.com/watch?v=sGU-84m3k6U
$10 per person!
Space is limited and we expect to sell out both shows!
---
STUDENTS ONLY
If you require Sign language interpreting services or Communication Access Realtime Translation (CART) services , please contact the event contact person and Stephanie Bonales at least 72 hours prior to the event at (562) 938-4918 or sbonales@lbcc.edu.

FACULTY AND STAFF ONLY
If you require Sign language interpreting services, please contact the event contact person and Rebecca Lucas at rlucas@lbcc.edu at least 5 business days prior to the event.

If you require Communication Access Realtime Translation (CART) services, please contact the event contact person and Jaymee Hunt at cart@lbcc.edu at least 5 business days prior to the event. *Please note requests are based on provider availability*