Homecoming Football Game 2022 — LBCC vs. Golden West
Veterans Memorial Stadium, LAC
Celebrating the Viking Spirit! LBCC Students, Employees and Community are all welcome!
Pre-game and Tailgate Party begin at 4 p.m.
Location: Veterans Stadium Parking Lot
View Map
Hambergers, Live Music and Games!
Football Game begins at 6 p.m.
Location: Veterans Memorial Stadium, Liberal Arts Campus
View Map
Presentation and Entertainment at Halftime!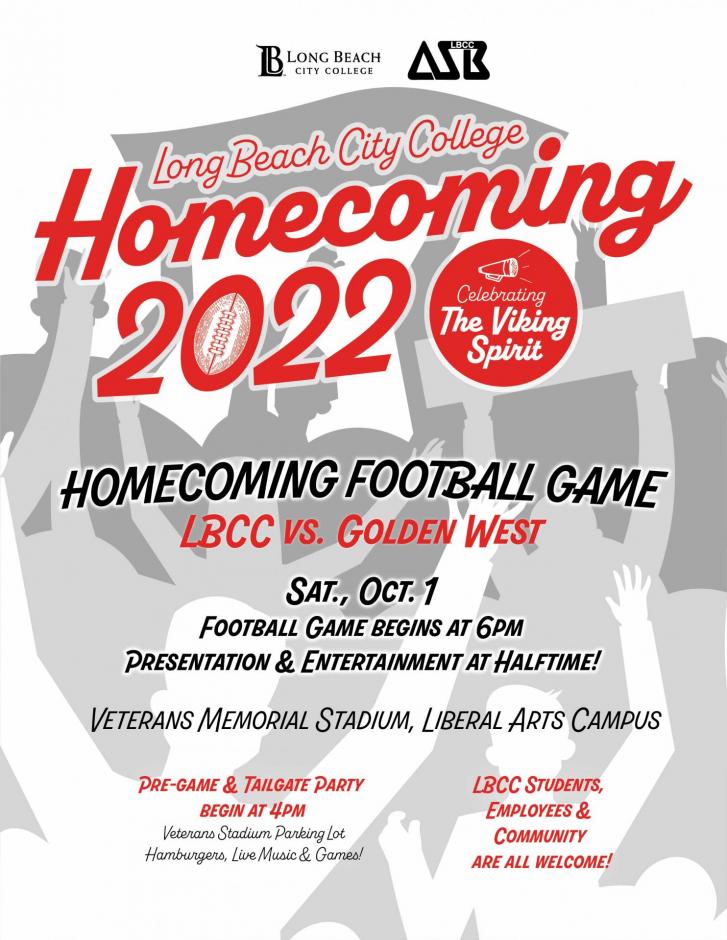 ---
GENERAL ANNOUNCEMENT:
Please note for Accommodations: At least 72 hours prior to the event, (562) 938-4558 (voice), (562) 353-4217 (videophone), & dsps-staff@lbcc.edu // Sign Language Interpreting, please contact Stephanie Bonales at sbonales@lbcc.edu or (562) 938-4918.
Communication Access Realtime Translation (CART) services, 5 business days prior to the event, please contact Human Resources Staff at cart@lbcc.edu *requests are based on provider availability*