Male Summit 2021
Awareness + Action = Power
Please register for the event on Eventbrite: https://www.eventbrite.com/e/2021-lbcp-male-summit-registration-140128715761
March 2
Keynote with Eric Thomas "The Hip Hop Preacher"
9:00 am – 10:30 am
Dr. Munoz Opening Remarks (9:00 am – 9:05 am)
Board President Ntuk Speaking Points (9:05 am – 9:10 am)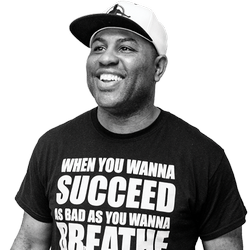 Eric Thomas, Ph.D., is a critically acclaimed author, World-renowned speaker, educator, pastor, and audible.com Audie Awards Finalist. ET, as he is better known, has taken the world by storm, with his creative, common-sense approach to living a successful, satisfying professional and personal life. Through a significant social media presence and regular domestic and international tours, "ET, The Hip Hop Preacher" has become a global phenomenon!
As CEO of his Consulting Firm, ETA LLC., Eric has led his team through the doors of dozens of hugely successful organizations and Fortune 500 companies such as General Electric, Quicken Loans, AT&T, Nike, Under Armour, New Balance, and UPS and continues to consult for major league sports franchises within the MLB, NBA, NFL, MLS.
Drawing from his personal experiences: homelessness, the absence of his biological father, academic struggles, and various other obstacles, ET's life story allows him to connect with others fighting for greatness. ET believes that Every kid has the promise of greatness within them — every single one. The key to nurturing that greatness is knowing each child's unique approach to learning. By identifying that unique approach to learning, their "superpower," teachers are better able to coach their students to greatness! Unfortunately, most kids don't even know that they have a superpower and, that's where "You Ain't The Boss Of Me" comes in. Every student CAN succeed! They just need the right tools to make that happen. Every child wants to achieve greatness; it's our job to teach them how.
---
March 3
We Got Us: A Mental Health Resources Conversation
10:40 am – 12:10 pm
Dr. Hamilton Opening Remarks (10:45 am – 10:50 am)
Maagic Collins (10:50 – 11:05 am)
Presentation and Conversation (11:05 am – End)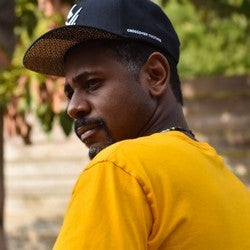 Maagic Collins of National Alliance on Mental Illness (NAMI). Maagic Collins is a creative artist creating content both thought-provoking and humorous, Black mental health and civil rights advocate who is the Host of the Fight the funk podcast dedicated to exploring mental health culture and the world around us. He is co-founder of Bewell Collab providing mental health resources to the community. Part of the Black Mental Health Taskforce designed to bring culturally literate professionals together. Lastly, Maagic is a peer-to-peer group facilitator at Nami West LA helping people struggling with mental health challenges get through the pandemic.
ZOOM: https://lbcc-edu.zoom.us/j/98797739994
---
March 4
Keynote with Dr. Cesar Cruz
12:50 pm – 2:20 pm
Eduardo Leyva Opening Remarks (12:55 pm -1:00 pm)
Dr. Cesar Cruz Speaks and Q&A (1:00 pm – 1:50 pm)
Panel Q&A (1:50 pm – 2:15 pm)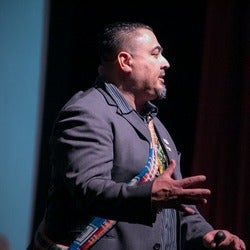 From marching 76-straight miles to hunger striking for 26 days, César has dedicated his life to fighting for justice. He was born in Guadalajara, Jalisco, México, and migrated to the U.S. at a young age with a single mother and grandmother. He grew up in South Central L.A. and moved to the Bay Area to study. César graduated from UC Berkeley with a B.A. in History. He has been an educator for 23 years, in positions of leadership for the last 17 years, most recently serving as the Dean of Secondary Schools Program at Harvard University. He co-founded the independent school, Making Changes, out of his home, and has sought to create autonomous education spaces. For the last four years, he has overseen the Homies Empowerment Program serving gang impacted/involved youth in Oakland, CA. He is the author of two books, Revenge of the Illegal Alien, and Bang for Freedom. He received his doctorate in Educational Leadership at the Harvard Graduate School of Education, becoming the first Mexican immigrant male to do so. The recipient of the Jefferson Award for Public Service, César currently serves as a Bridge Fellow for the national organization TNTP (The New Teacher Project), and is on the advisory board of the education policy organization Broader Bolder Approach to Education (BBA). Amidst all, he is proudest to be a husband, and father of three children: Olin, Amaru and Quetzali. He can be reached at Cesar_Cruz@mail.harvard.edu
Dr. Cruz on the Meredith Vieira Show. Dr. Cruz's author website.
ZOOM: https://lbcc-edu.zoom.us/j/91233492448
March 4
1:50 pm – 2:15 pm
Panel Conversation – Overcoming the 2 Deadly Viruses: Social & Racial Injustice & COVID 19
---
STUDENTS ONLY
If you require Sign language interpreting services or Communication Access Realtime Translation (CART) services , please contact the event contact person and Stephanie Bonales at least 72 hours prior to the event at (562) 938-4918 or sbonales@lbcc.edu.

FACULTY AND STAFF ONLY
If you require Sign language interpreting services, please contact the event contact person and Rebecca Lucas at rlucas@lbcc.edu at least 5 business days prior to the event.

If you require Communication Access Realtime Translation (CART) services, please contact the event contact person and Jaymee Hunt at cart@lbcc.edu at least 5 business days prior to the event. *Please note requests are based on provider availability*