Native American History Month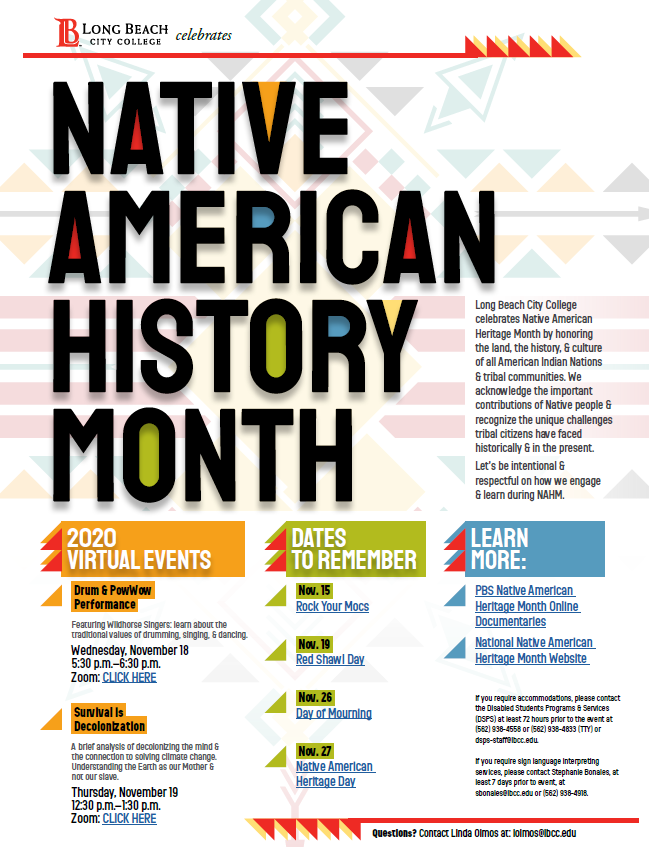 Long Beach City College Celebrates Native American Heritage Month by honoring the land, the history, and culture of all American Indian Nations and tribal communities. We acknowledge the important contributions of Native people and recognize the unique challenges tribal citizens have faced historically and in the present. Let's be intentional and respectful on how we engage and learn during NAHM.
2020 Virtual Events
Drum and PowWow Performance
Featuring windhorse singers: learn about the traditional values of drumming, singing, and dancing
Wednesday, November 18
5:30P.M.-6:30P.M.
Zoom: Click Here
Survival is Decolonization
A brief analysis of decolonizing the mind and the connection to solving climate change. Understanding the Earth as our Mother and not our slave.
Thursday, November 19
12:30P.M.-1:30P.M.
Zoom: Click Here.
Dates to Remember
Learn More:
---
GENERAL ANNOUNCEMENT:
If you require accommodations, please contact the Disabled Students Programs & Services (DSPS) at least 72 hours prior to the event at (562) 938-4558 or (562) 938-4833 (TTY) or dsps-staff@lbcc.edu. If you require sign language interpreting services, please contact Stephanie Bonales at sbonales@lbcc.edu or (562) 938-4918.
If you require Communication Access Realtime Translation (CART) services, please contact Sunita Shelly: sshelly@lbcc.edu / 562.938.4947 or Sonia Leticia Vélez: svelez@lbcc.edu at least 5 business days prior to the event. Please note requests are based on provider availability, the more advance notice the better.