Camille Bolton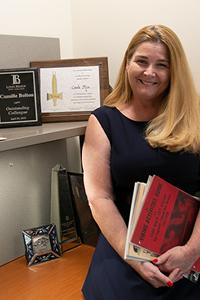 Camille Bolton is more than a friend to Long Beach City College. She is an alumna, a current employee, and a true legacy as the daughter and mother of LBCC alumni.
After skipping two grades and graduating from North Hollywood High School at 16, she knew that Long Beach City College was the only place she wanted to be. Having her father, Philosophy Professor Dr. John Mize, on campus with her in 1985, made the transition more comfortable and she soon felt very much at home joining the Viking campus newspaper, working in the Public Information Office, and on the Associated Student Body (ASB) Cabinet. Before she transferred to Cal State Fullerton, she earned the highest student honor at LBCC, the Viking Award. She was also fortunate to make life-long friends she cherishes to this day and hopes they are in the audience with her tonight.
After graduation and years working in community journalism, she returned to LBCC as a Limited Term Employee in 1994 back in the Public Information Office. In 2007 she was officially hired as the Public Relations Coordinator in the same office that came to be known as Community Relations and Marketing. In 2010 she earned the Outstanding Colleague Award by her peers and in 2012 she was honored with the NISOD (now "Excellence Award") by the Community College leadership. For two years she enjoyed her time as the ASB Cabinet Advisor, doing her best to emulate her own Cabinet advisor, the great Dr. John Fylpaa. She has also enjoyed many years working with the student public relations group, and the President's Ambassadors, and volunteering for multiple community improvement efforts.
She is the very proud mom to the Emmy award-winning Amelia Bolton, also a Viking Award winner, who now works for CBS Sports back East. She and her partner Darren (also an LBCC alum and colleague) are having a blast fostering four-year-old Peyton Hazel, who attends the LBCC Child Development Center at the Pacific Coast Campus.