FDIP Mentors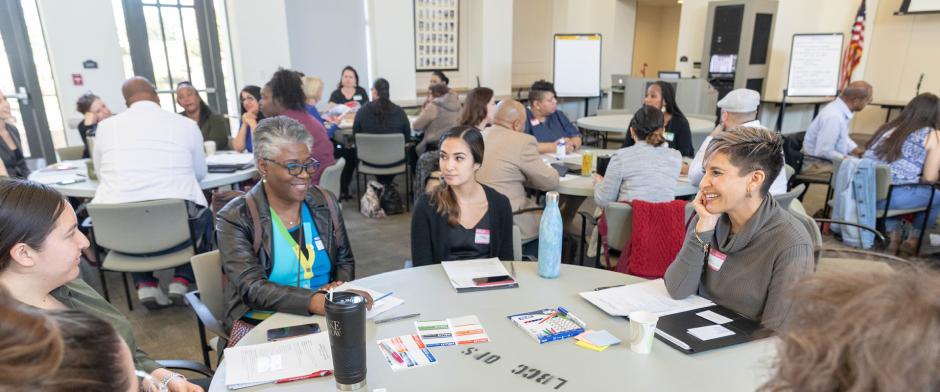 Long Beach City College invites you to apply for a mentorship opportunity and be part of our newly updated Faculty Diversity Internship Program as a faculty mentor!
Mentors will have an opportunity to work with individuals who have not worked in the community college system before and impact the lives of these individuals hoping to make this transition and help set them up for success as they embark upon this endeavor. Mentors will be able to serve as inspiring role models to interns while providing classroom and instruction experiences to their mentees. In this role, during the spring semester of 2023, mentors will provide about 6 hours of their expertise a week to mentees, providing guidance and learning opportunities. To further understand the mentor role, mentors will be able to participate in a two-hour orientation to review the responsibilities of this role.
The College has identified a few key areas for participation in this opportunity. Specifically, the College invites applications from full-time faculty members within the following programs to become mentors:
Art History
Business Administration
Computer & Office Studies
Culinary Arts
Diagnostic & Medical Imaging
DSPS
Electricity
English
History, Political Science & Ethnic Studies
Life Science (Anatomy, Physiology, & Microbiology)
Physical Science
Public Affairs & Services
Social Science
RN/VN
Visual & Media Arts (Film & Digital Media)
Program Structure
Mentors commit to working with interns during the spring semester.
Interns commit to a one-year training and internship program:
FALL SEMESTER
Attend monthly training covering topics about teaching at a community college, equitable teaching practices, lesson planning, assessing student learning, and working with diverse learners.
SPRING SEMESTER
Continue to attend monthly training and gain hands-on experience in a classroom with a faculty mentor in a one, 16-week course or the equivalent.

Program Goals
The FDIP is uniquely designed to accomplish the following:
Attract and recruit qualified faculty who mirror the diversity of the college's service area.
Provide mentoring and training opportunities for prospective faculty.
Provide members of marginalized groups with models of their own background with whom they can identify and recognize as examples of occupational achievement.
Frequently Asked Questions
How much time should I expect to commit?
In the fall semester, you will not need to do anything because the interns will be participating in monthly training with the FDIP Coordinator. Interns will start working with you in the spring. During this time, you will spend about 2-3 hours a week interacting, coaching, and mentoring your intern.
The following are additional events mentors will be asked to participate in during the spring semester of the program:
FDIP Mixer Event
Two mentor training/meetings
FDIP Graduation
What are some of my responsibilities?
Meet with interns on a weekly basis when working with them in the spring
Attend two mentor meetings in the spring and participate in the Meet and Greet Mixer
Guide and provide opportunities for interns to develop lesson plans and teach
Engage in conversations with the intern about student success, student learning, and student equity
Can I recruit my own intern?
Yes, you can recruit your intern as long as the intern meets the minimum requirements.
What are the minimum requirements to be an intern in the program?
Meet minimum qualifications for a subject area discipline taught at LBCC:

Graduate students nearing completion of a Master's degree from an accredited college or university
Master's degree holders
Bachelor's degree holders with a minimum of two years of full-time occupational experience in a vocational/technical area
Associate's degree holders with a minimum of six years of full-time occupational experience in a vocational/technical area

Have no prior paid higher education teaching experience as the instructor of record. Does not include teaching completed as part of your graduate program.
What are some things my intern will be doing while under my mentorship?
The following are examples of tasks interns can do while under a faculty mentor:
Work directly with students one-on-one or in small groups
Correspond and support students
Develop lessons and teach
Assist the mentor as needed
Whom can I contact if I have more questions about the program?
Dr. Alina Yang at ayang@lbcc.edu.

Application Proces
Those interested in the program and would like to complete a mentor application, please contact Guadalupe Garcia at ggarcia@lbcc.edu.