Lab School & Observation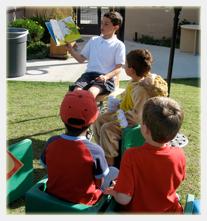 Observation Rooms with one-way mirrors in Rooms 1, 2, and 3 at LAC are for adult use only. Other college students also use Observation Rooms as they fulfill class assignments. Please do not use the Observation Rooms to visit with other parents. Observation appointments are limited; please call in advance.
Book observation appointments online
Computer Observation Lab at PCC is for adult use only. Lab is open all day and appointments are recommended.
Students from the college observe and/or participate in the children's groups.
Visitors must sign in at the desk, show photo identification and receive a nametag upon arrival.
Observation Guidelines
When you arrive, please sign in with the office staff at the front desk or through the TutorTrac computer, if available. You must have a valid I.D. card (LBCC student I.D. or CDL) with you. You must also have proof of enrollment in LBCC CDLL 603 Child Development Center Participation class OR enroll online through the Admissions Department on-site prior to starting your observation appointment at the Center.
ONE-TIME OBSERVATIONS: Sign in via Tutor Track by following the instructions posted at the computer using your student ID number. You must also show your student ID to the staff member at the front desk. If Tutor Track is unavailable, sign in the Observation Book under the "One-Day Observations" TAB. Neatly PRINT your name, student ID and the 5-digit class section number of the class you are doing the observation for, and time in. Return to the front desk when you've finished your observation to sign out. If you do not sign out, you will NOT receive credit.
WEEKLY LAB ASSIGNMENTS – 66 LAB and PRACTICUM STUDENTS:
Please sign-in under the "66 LAB" or "68 Practicum" TAB. Please PRINT your name, student ID # and class section # (for 66 or 68). Pull your CDECE 66 or CDECE 68 card from the box and the front office staff will sign you in, and sign you out when you leave. Re-file your card before leaving.
You must wear your I.D. while observing in the Center. An ID holder will be provided for observing students by the person who checks you in. Please return it to the front desk when your observation ends.
While in the lab/classroom:
Do not talk with other students, Child Care Assistants, parents or interact with the children (unless you are a Practicum or CDLL Field Work student)
Remain inconspicuous; sit down whenever possible; avoid standing.
Place yourself away from other observing students.
No drinks, water, food, or smoking on the premises.
Clothing should be comfortable and modest (no short-shorts, bare midriffs, low necklines, etc.).
Photographs may be taken of children whose parents/guardians have granted permission. Please check with someone in Administration or the Teacher if you plan on photographing children. Please note that you may NOT post photos/videos of Child Development Center Lab School children on social networking sites (such as, but not limited to, Facebook, MySpace, YouTube…) and websites
NO CELL PHONES are allowed. (Talking OR Texting)
Store ALL of your belongings in your car trunk or student locker (provided @ PCC only—you must bring your own lock and key). Only a notepad and pen may be taken into the classroom.
Please follow the instructions given to you by your class instructor as well as those listed above. PLEASE OBTAIN ALL NEEDED SIGNATURES ON PAPERWORK BEFORE YOU LEAVE.