Prospective Students
Resources for new students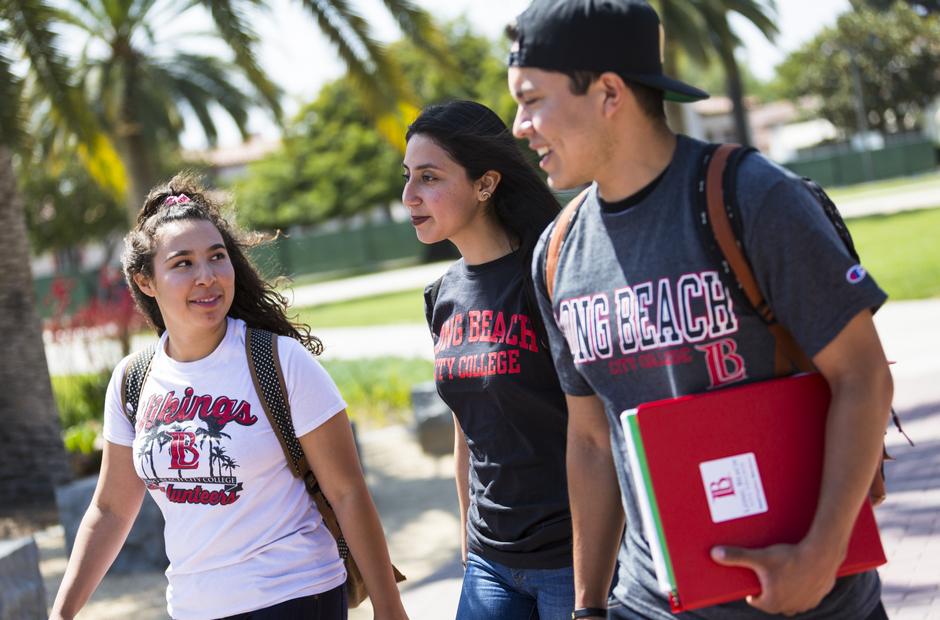 The California Dream Act became law through the passage of two Assembly Bills – AB130 and AB131. They allow students who meet AB540 criteria to become eligible to apply for state-funded financial aid.
Undocumented students who have applied and been admitted to Long Beach City College should review the AB-540 criteria to determine their eligibility to pay in-state tuition. If eligible, a California nonresident tuition exemption form should be filled out and submitted to the Admissions and Records Office.
Are all AB540 students undocumented immigrants?
No. Citizens and permanent residents who would otherwise be classified as residents of other states who meet AB540 criteria can qualify as California residents for tuition purposes and any financial aid benefits. Visit the CSAC California Dream Act website for more information.
Criteria
You must have attended a CA high school for at least 3 years.
You must have graduated or attained the equivalent (usually passing the GED or California HS Proficiency exam).
You must have filed for legal immigration status or will file as soon as possible. It is a legal requirement that you file an affidavit with LBCC Admissions and Records swearing that this is true.
*If you meet these criteria be sure to see the LBCC Admissions and Records Office as soon as possible, complete the and submit the document with an officia y of the your high school transcripts.
AB-540 Eligibility Requirements
Must have attended a California high school for 3 or more full academic years (between grades 9 through 12, inclusive and does not need to be consecutive years); AB2000 modifies this section, to also include students who attain credits in a California high school equivalent to 3 or more years of full-time high school coursework and a total of 3 or more years of attendance in California elementary schools, secondary schools, or a combination of those schools.
Must have or will graduate from a California high school or have attained a G.E.D.; or received a passing mark on the California High School Proficiency Exam (CHSPE);
Must register or is currently enrolled at an accredited institution of public higher education in California;
Must file the

CA Nonresident Exemption Request

as required by individual institutions, stating that the filer will apply for legal residency as soon as possible;
Must not hold a valid non-immigrant visa (F, J, H, L, A, E, etc.)
Be advised that you may need to provide proper documentation to prove eligibility, such as high school transcripts. For further details and information about AB-540 and its criteria, please visit the Admissions & Records or meet with a counselor.
Financial Aid
Currently, undocumented students do NOT qualify for any federal financial aid but may qualify for state aid and scholarships under AB 130 and AB 131.
AB 130 allows undocumented students that are AB 540 eligible to apply for scholarships that do not have a residency or citizenship requirement.
AB 131 allows undocumented students that are AB 540 eligible to apply and receive state financial aid, such as the Cal grants and state university grants. Undocumented students are strongly encouraged to fill out the California DREAM Act application to determine eligibility for state financial aid by the March 2nd deadline.
DACA (Deferred Action for Childhood Arrivals) recipients – Employment authorization social security numbers issued by USCIS upon eligibility for the DACA program do not qualify for FAFSA application. DACA recipients should apply for financial aid through the CA Dream Act application only.
Scholarships
Undocumented students are eligible to apply for scholarships through the California Assembly Bill 130. Scholarships may be offered through students' major departments, directly through the university or outside scholarship programs. For more information, please visit the Scholarship and LBCC Foundation Scholarship pages.
The following scholarship site links and their information are separate entities with no relation to Long Beach City College or the Financial Office on campus.