Starfish for Faculty
Help your students succeed in the classroom
Starfish Early Alert can help you and your students make every term successful. Starfish is an early warning and student tracking tool which collects and shares information while facilitating interventions that leverage existing campus resources. Use Starfish to activate a network of support that extends well beyond the classroom. In other words, with Starfish, you can engage with more students more frequently to promote their academic success.
Using Starfish, you can acknowledge your student's performance and progress throughout the entire term.
When a student earns special recognition for improvement or good work, use Starfish to send a Kudo (positive reinforcement) celebrating their efforts. If a student begins to struggle, you can raise a Flag (early warning) in Starfish to notify them at the very first sign of getting off track. Flags are opportunities for students to get support and develop a plan for recovery and course completion. When students require assistance outside of the classroom, you can use Starfish to initiate a Referral with institutional resources such as tutoring or counseling.
Features
Faculty can manually raise Flags, Kudos, or Referrals for students. You can also participate in the progress survey two times a semester (for a traditional 16- week term) to provide all student in your class(es) feedback in an instant.
When a student…
You can use Starfish for…
To say to the student…
Deserves positive recognition
KUDOS

"Keep up the good work" to congratulate them for their outstanding work.
"Showing improvement" to encourage them to continue working towards improvement.

Is struggling with their class
FLAGS

"Attendance Concern" to warn them of missing two or more class sessions (or equivalent online classes)
"Missing assignments" to warn those who missed two or more assignments.
Progress Concern (Academic), which initiates a Counseling intervention.

Needs assistance outside of the classroom
REFERRALS

"Writing & Reading Tutoring" to initiate an intervention for the student to receive tutoring in writing and reading.
"Library Research Assistance" to initiate an intervention for research assistance
"Transfer Services" to initiate an intervention for transfer services
Workflows
The workflows give you a high-level perspective of how information flows in a virtual platform for each of the tracking items. Moreover, the table includes information about who can initiate tracking items and who is responsible for resolving them.
| Situation/Intervention: | Tracking Item Type: | Raised by: | Resolved by: |
| --- | --- | --- | --- |
| Attendance Concern | FLAG | Instructor | Instructor |
| Missing Assignment | FLAG | Instructor | Instructor |
| Progress Concern (Academic) | FLAG | Instructor | Triaged by Counseling |
| Writing & Reading Center | REFERRAL | Instructor | Instructional Specialist |
| Transfer Center | REFERRAL | Instructor | Transfer Center Staff |
| Library Research Assistance | REFERRAL | Instructor | Librarian |
| Good Work! | KUDO | Instructor | N/A |
| Showing Improvement | KUDO | Instructor | N/A |
Progress Surveys
| Date | Time | Location | Register |
| --- | --- | --- | --- |
| Tuesday, Oct. 23 | 2:00 pm – 1:00 pm | LAC, L-252 | Register |
| Wednesday, Oct. 24 | 5:00 pm – 6:00 pm | PCC, LL-206 | Register |
Starfish makes providing feedback for your entire classes easy and quick. During weeks 4 and 9 of a 16-week semester, you will have access to a Progress Survey to batch-raise kudos and flags for all students in your class(es). It's as easy as clicking boxes next to student names from your course roster.
Please note that only the most pertinent tracking items will be available on each survey, for ease of completion. However, you may raise any of the other tracking items at any point in the semester from the Students page in Starfish. See the Instructional Faculty Handbook or the Instructional Video for Faculty for more details on completing a Progress survey and raising tracking items from the Students page. You may also find the video below informative.
STARFISH TWO MINUTE TIP: RESPOND TO A PROGRESS SURVEY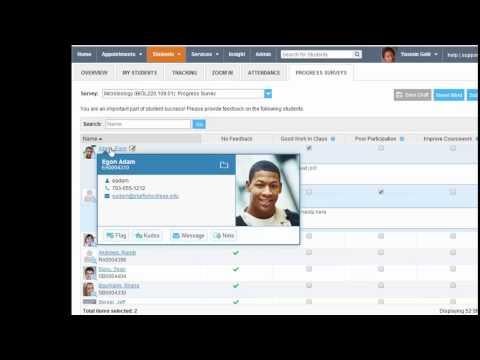 Using Starfish
Before using Starfish Early Alert, it is important to read through the Instructional Faculty Handbook and watch the Instructional Video for Faculty. These resources will provide more information about the functions and features of the system. You should also log into the system to create your user profile, and introduce Starfish to your students before use.
By introducing Starfish to your students on the first day of class (and in your syllabus), you encourage them to use the system as a beneficial tool in their academic pursuits. And by using the Progress Surveys, you will provide valuable feedback to your students.
Sample Syllabus Language
You may find it helpful to make an announcement in class or post something to Canvas to alert students about your use of Starfish Early Alert for the course. In addition, the faculty is encouraged to include a statement in their syllabus about Starfish Early Alert. A sample is included below:
I will be using Starfish Early Alert in this class to provide you with feedback about your academic performance. The feedback will be in the form of "flags" and "kudos". Flags are tied to academic concerns like attendance or missing assignments that may negatively impact your grade. Kudos are given to promote and encourage strong academic performance. Starfish Early Alert will allow me to more easily connect you with support resources so you can be successful. Don't forget to set up your profile. For more information go to https://www.lbcc.edu/starfish-early-alert.
Training & Getting Started
| Date | Time | Location | Register |
| --- | --- | --- | --- |
| Tuesday, Oct. 16 | 1:00 pm – 2:00 pm | PCC, LL-206 | Register |
| Tuesday, Oct. 16 | 5:00 pm – 6:00 pm | LAC, L-252 | Register |
Please watch the LBCC Instructional Faculty Video below for key information needed to get started with Starfish including:
How to log in & update your profile
How to view and filter student lists
How to raise and resolve tracking items
How to complete a progress survey
Our detailed Instructional Faculty Handbook is also available at any time and provides step-by-step procedures, guidelines on when to raise each tracking item, and copies of all messages sent to students through Starfish. All instructors are encouraged to read through this document before using Starfish.
In-person training sessions are typically offered at the beginning of each semester, and you may request an additional group or one-on-one training at any time by contacting Starfish Support.
STARFISH INSTRUCTIONAL VIDEO FOR FACULTY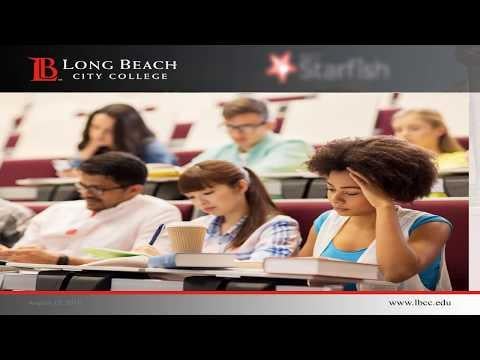 Technical Support
Starfish support for faculty and staff only can be requested through the IT Helpdesk. From the IITS Helpdesk page, click Institutional Software > Application Dev & Support > Starfish from the drop-down menu.