Veterans Benefits
Learn more about the GI Bill® and other benefits available for veterans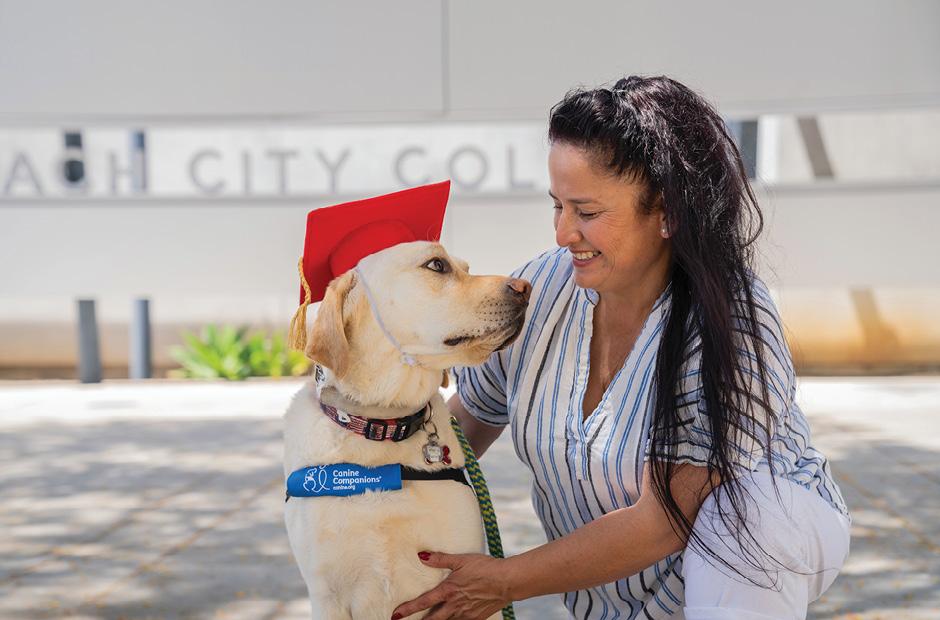 Many benefits are available to advance the education and skills of Veterans and Servicemembers. For more information regarding these and other benefits, please visit the US Department of Veterans Affairs.
Montgomery GI Bill®, Chapter 30
The Montgomery GI Bill® (MGIB) is available to those who enlist in the U.S. Armed Forces. There are two main programs:
Montgomery GI Bill®, Active Duty (MGIB-AD). For active duty members who enroll and pay $100 per month for 12 months and are then entitled to receive a monthly education benefit once they have completed a minimum service obligation.
Montgomery GI Bill®, Selected Reserve (MGIB-SR). For Reservists with a six-year obligation in the Selected Reserve who are actively drilling.
Harry W. Colmery Act/Post 9/11 GI Bill®, Chapter 33
Harry W. Colmery Veteran Educational Assistance Act of 2017 *Formerly known as Post-9/11 GI Bill® is an education benefit program for individuals who served on active duty on or after September 11, 2001. You may receive benefits for any approved program offered by a school in the United States that is authorized to grant an associate (or higher) degree.
Vocational Rehabilitation & Employment Chapter 31 (VOC REHAB)
Vocational Rehabilitation and Employment (VR&E), sometimes referred to as the Chapter 31 program, provides services to eligible Servicemembers and Veterans with service-connected disabilities to help them prepare for, obtain, and maintain suitable employment or achieve independence in daily living. For more information please review the official VR&E information on the U.S. Dept. of Veteran Affairs website.
Survivors and Dependents Educational Assistance (DEA)
This program offers education and training opportunities to eligible dependents of Veterans who are permanently and totally disabled due to a service-related condition or of Veterans who died while on active duty or as a result of a service-related condition.
To be eligible for these benefits you must be the son, daughter, or spouse of:
A Veteran who died or is permanently and totally disabled as the result of a service-connected disability. The disability must arise out of active service in the armed forces.
A Veteran who died from any cause while such permanent and total service-connected disability were in existence.
A Servicemember missing in action or captured in line of duty by a hostile force.
A Servicemember forcibly detained or interned in line of duty by a foreign government or power.
A Servicemember who is hospitalized or receiving outpatient treatment for a service-connected permanent and total disability and is likely to be discharged for that disability.
Fry Scholarship
The Marine Gunnery Sergeant John David Fry Scholarship (Fry Scholarship) provides Post-9/11 GI Bill® benefits to the children and surviving spouses of Servicemembers who died in the line of duty while on active duty after September 10, 2001. Eligible beneficiaries attending school may receive up to 36 months of benefits at the 100% level.
The CalVet Fee Waiver
The College Tuition Fee Waiver for Veteran Dependents benefit waives mandatory system-wide tuition and fees at any State of California Community College, California State University, or University of California campus. This program does not cover the expense of books, parking or room, and board. There are four plans under which dependents of veterans may be eligible.
For more information on eligibility requirements and how to apply, please visit the California College Fee Waiver Program website.
Maximizing GI Bill® Benefits & Transfer of Benefits
Using DANTES, the Yellow Ribbon Program, Scholarships & More.
Post 9/11 GI Bill® benefits right now are the most generous in the history of the GI Bill®. With a maximum of 36 months of benefits that pays tuition, a book stipend and a monthly housing allowance, one would think it is enough to pay for a four-year college degree. And many times, it is.
But in other cases, it does not cover all the costs of going to college today. In this guide we look at several different ways students, who are either veterans or currently serving members, can use to get the most from their GI Bill® benefits with the goal being to have as little out-of-pocket expenses as possible.
GI Bill® is a registered trademark of the U.S. Department of Veteran's Affairs (VA). More information about educational benefits offered by the VA is available at the official U.S. government website at the Education & Training page and Affordable Colleges Online.