Viking Vault
Food Resources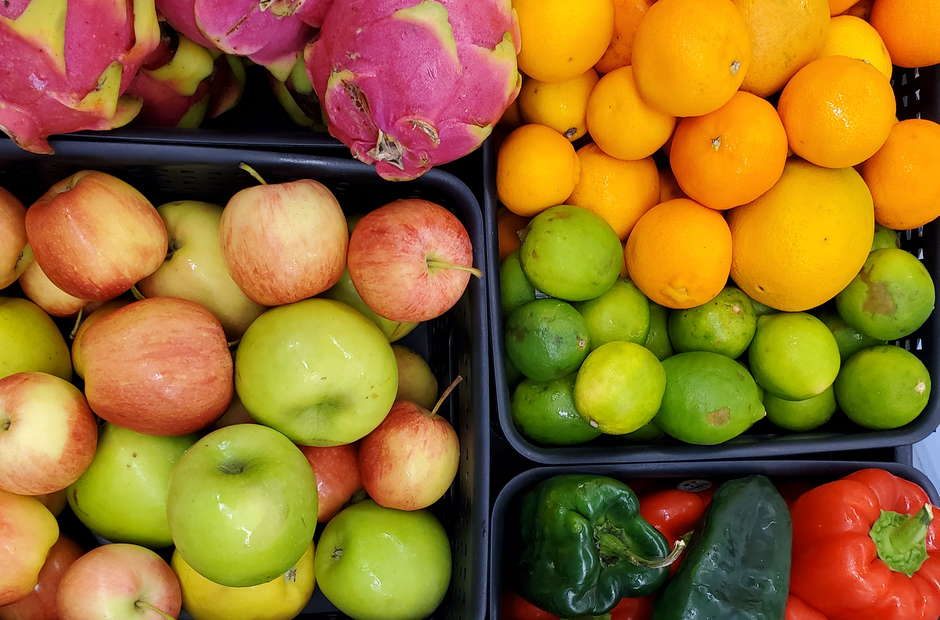 Our basic needs and food resources are provided through the Viking Vault. The Viking Vault is the LBCC food pantry and is located at the Liberal Arts Campus (LAC) in E-131, and Pacific Coast Campus (PCC) in QQ-107. As an LBCC student, you are able to visit the Viking Vault and get FREE groceries and snacks to help nourish a healthy body and mind. There are no limits to how many times you visit the Viking Vault, and we have added a special protocol to continue offering groceries safely during COVID-19 and campus closure. As long as you are enrolled in classes, you can access our resources.
Viking Vault Services
Grab-n-Go Events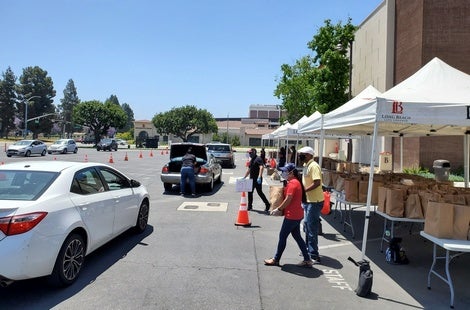 During COVID-19, the Viking Vault is hosting Grab and Go events for LBCC students to pick up a free, pre-packaged, bag of non-perishable groceries. The Grab and Go's are drive-thru events for students to receive their food without having to get out of the car. The events take place at the PCC campus Lot 3 every two weeks on the 2nd and 4th Tuesdays of each month. Join our Basic Needs Canvas page to receive updates about our upcoming events.
Visit the Viking Vault
The Viking Vault is officially open on both campuses! No appointments are required. Students can visit in person to shop for groceries, fresh produce, meat, hygiene items, and parenting resources, all for free, during our open hours.
Parenting Resources
The Viking Vault has free diapers sizes 1-6, baby wipes, children's clothes sizes 0-14, baby food, and children's hygiene items. LBCC also has dedicated support programs for parenting students such as EOPS/CARE and CalWORKS.
| Day | Location | Time |
| --- | --- | --- |
| Mon, Tue | LAC, E-131 | 9:00 am – 5:00 pm |
| Wed, Thu | PCC, QQ-107 | 9:00 am – 5:00 pm |
CalFresh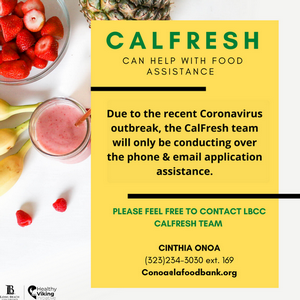 CalFresh is available for qualifying students to make sure you not only have food temporarily, but can receive additional aid to purchase food and eat healthier. LBCC has a representative that works with our students to make sure they are eligible and to walk you through the entire application process. You can email her anytime and let her know you are enrolled as an LBCC student and want to apply for Cal-Fresh benefits. Students can receive awards up to $234.00 a month for groceries.
The Basic Needs Program is hosting monthly webinars all semester for you to learn more about the program, eligibility, and how to apply. You don't need anything to join, and will learn everything you need to know to earn your benefits. Join us on the first Thursdays of every month from 2:00 pm – 3:00 pm at http://www.tinyurl.com/calfreshlbcc.
For more information about CalFresh and how to sign up, visit students.getcalfresh.org.
Food Pantry Finder
In case you need additional food resources beyond the Viking Vault, you can use the following links to find food pantries in your community. You can search by zip code and maps on the Feeding America website, the Los Angeles Regional Food Bank website and the Food Finders website to find a food pantry near you.