Viking Vault
Food Resources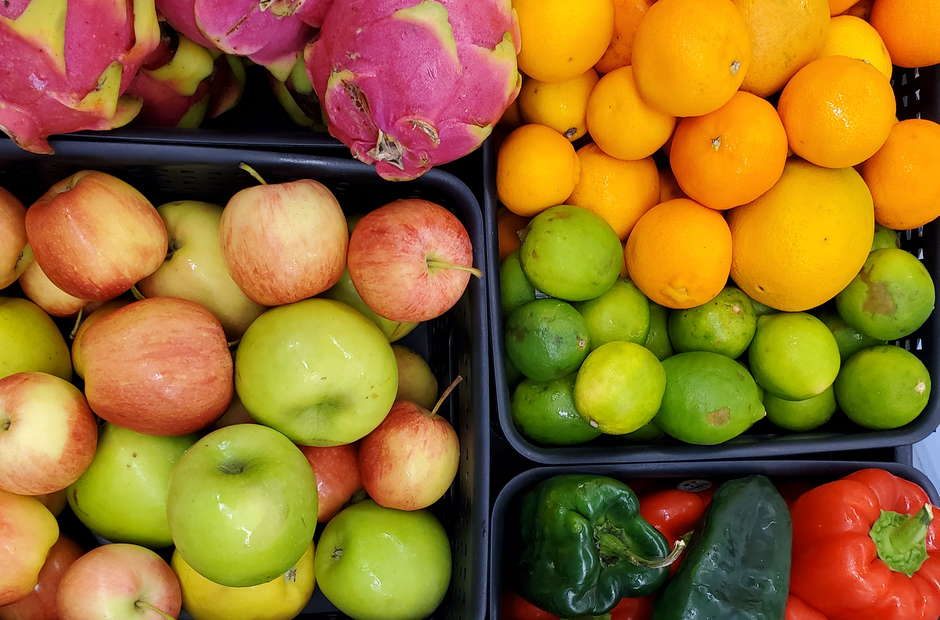 Our basic needs, and food resources are provided through the Viking Vault. The Viking Vault is the LBCC food pantry and is located at the Liberal Arts Campus (LAC) in E-131, and Pacific Coast Campus (PCC) in QQ-107. As an LBCC student you are able to visit the Viking Vault and get FREE groceries and snacks to help nourish a healthy body and mind. When campus is opened you can also find Mini Viking Vaults across campus in the Health Services Office, and other academic and student service offices. There are no limits to how many times you visit the Viking Vault, and we have added special protocol to continue offering groceries safely during COVID-19 and campus closure. As long as you are enrolled in classes, you can access our resources.
Accessing Food During COVID-19
Grab-n-Go Events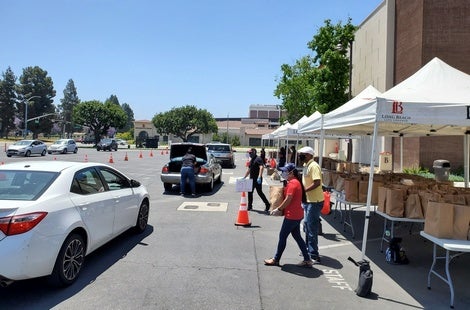 During COVID-19, the Viking Vault is hosting Grab-n-Go events for LBCC students to pick up a free, pre-packaged, bag of non-perishable groceries. The Grab-n-Go's are drive-thru events for students to receive their food without having to get out of the car. The events take place at the LAC campus every two weeks. Join our Basic Needs Canvas page to receive updates about our upcoming events.
Visit the Viking Vault
Students can visit the LAC Viking Vault in-person to receive pre-packaged groceries and fresh produce on Mondays and Tuesdays between 9:00 am – 5:00 pm, by making an appointment. Appointments can be made by emailing a time during our open hours to basicneeds@lbcc.edu or by clicking Schedule a Viking Vault Visit! and selecting a time. Join our Basic Needs Canvas page to receive updates about what fresh produce we have available.
In alignment with recommendations outlined by our state and local agencies, we expect all students to adhere to social distancing and other safety precautions when picking up your groceries. Including:
Must wear a face mask to be on campus, students without a mask will not be allowed on campus. If you do not have a mask just cover your nose and mouth.
Use gloves if you have them.
Stay at least six feet away from any other person.
Only show up during the scheduled pick-up hours.
Follow all guidance provided by LBCC representatives to promote safety.
CalFresh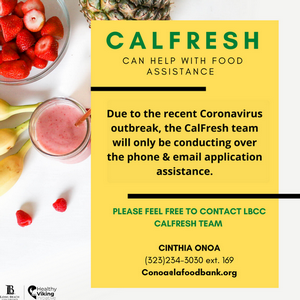 CalFresh is available for qualifying students to make sure you not only have food temporarily, but can receive additional aid to purchase food and eat healthier. LBCC has a representative that works specially with our students to make sure you are eligible and to walk you through the entire application process. You can email her anytime and let her know you are enrolled as a LBCC student and want to apply for Cal-Fresh benefits. Students can receive awards up to $193.00 a month for groceries.
LBCC CalFresh representative: Cinthia Onoa, (323) 234-3030 ext. 169, conoa@lafoodbank.org.
For more information about CalFresh and how to sign up, visit students.getcalfresh.org.
Food Pantry Finder
In case you need additional food resources beyond the Viking Vault, you can use this link to find a food pantry in your community. You can search by zip code on the Feeding America website. You can also use this Food Pantry Locator to find a food pantry near you: