LBCC Breaks Ground on New PCC Parking Structure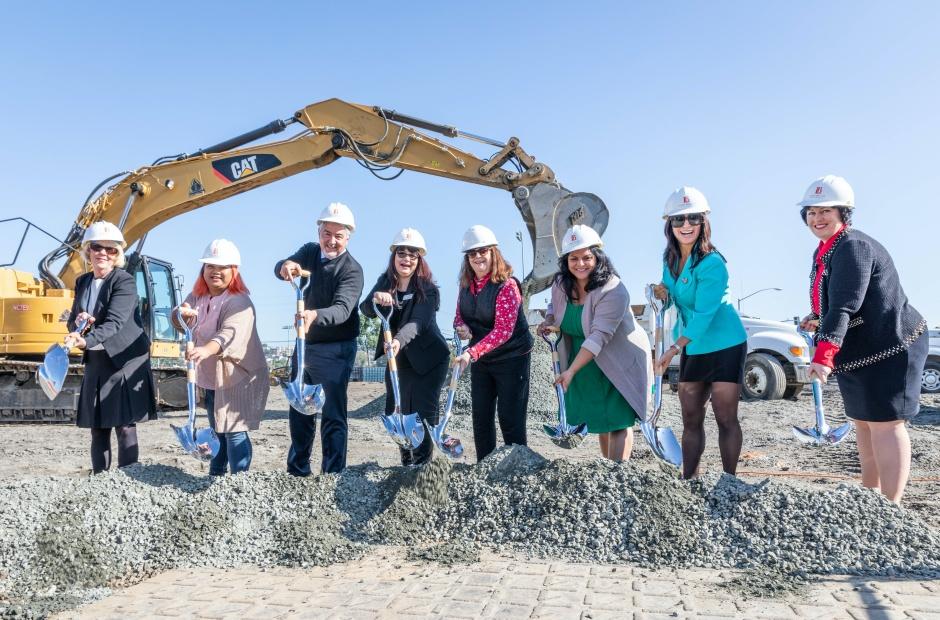 Long Beach Community College District (LBCCD) Board of Trustees members, leadership, faculty, students, and staff celebrated on Dec. 9 with a groundbreaking ceremony for a parking structure to be built at the College's Pacific Coast Campus (PCC).
The four-level parking structure will present an entirely new face and a large façade where information will be shared with students, staff, and visitors as they arrive and depart from the campus along Pacific Coast Highway, just north of Walnut Avenue. Its anticipated opening is early 2021.
"There are many reasons to be excited about the next step of the Pacific Coast Campus renaissance," said LBCCD Board of Trustees President Vivian Malauulu. "This structure will provide 530 parking stalls for students, it supports the District's Zero Net Energy Sustainability goals, and will also include a feature to market campus events to the neighborhood and the thousands of people who drive on PCH every day. Most importantly, this structure will serve as a modern-day example of the vital role that LBCC is taking in revitalizing this area of the city."
The parking structure will strengthen LBCCD's Integrated Energy Master Plan by providing 33 Electric Vehicle Charging Stations, 45 Clean Air Vehicle Spaces, Photovoltaic (Solar) Panels, and a Modular Wetlands System with biofiltration to remove sediment from stormwater runoff.
"The designers of this project have done wonders incorporating the needs of our population and I think when it is all finished, we will see a whole new way the Pacific Coast Campus is seen and utilized by both the public and our LBCC family," said LBCCD Superintendent-President Reagan Romali, Ph.D.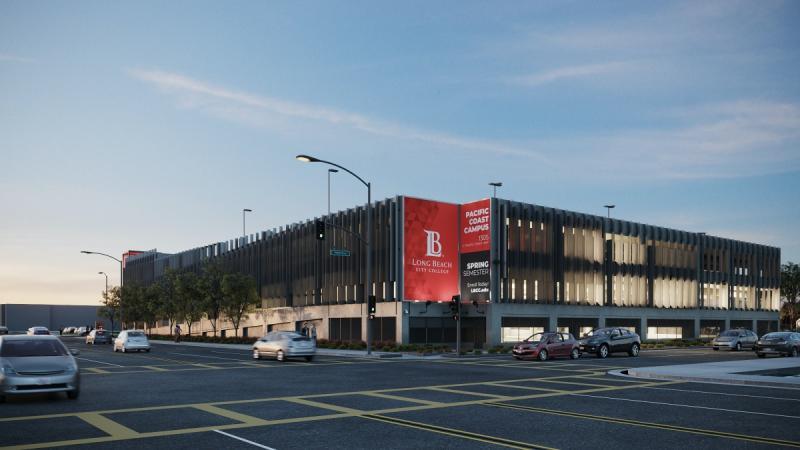 The estimated budget for the structure is $18.4 million and will be paid for through the Measure LB bond funds approved by the voters for renovation and repairs at LBCC's Pacific Coast Campus and Liberal Arts Campus.
The project architect is CPC, and McCarthy Building Company is the general contractor. The Cordoba Corporation oversees and manages all Measure E and LB projects.
---
About Long Beach City College
Long Beach City College consists of two campuses with an enrollment of over 25,000 students each semester and serves the cities of Long Beach, Lakewood, Signal Hill, and Avalon. LBCC promotes equitable student learning and achievement, academic excellence, and workforce development by delivering high quality educational programs and support services to our diverse communities. Visit www.LBCC.edu for more information about Long Beach City College.
MEDIA CONTACT
Stacey Toda
LBCC Associate Director
Communications & Community Engagement
(562) 938-4004