LBCC Celebrates Renovation of Oldest Building on LAC Campus
The bond-funded construction project protects history while modernizing facilities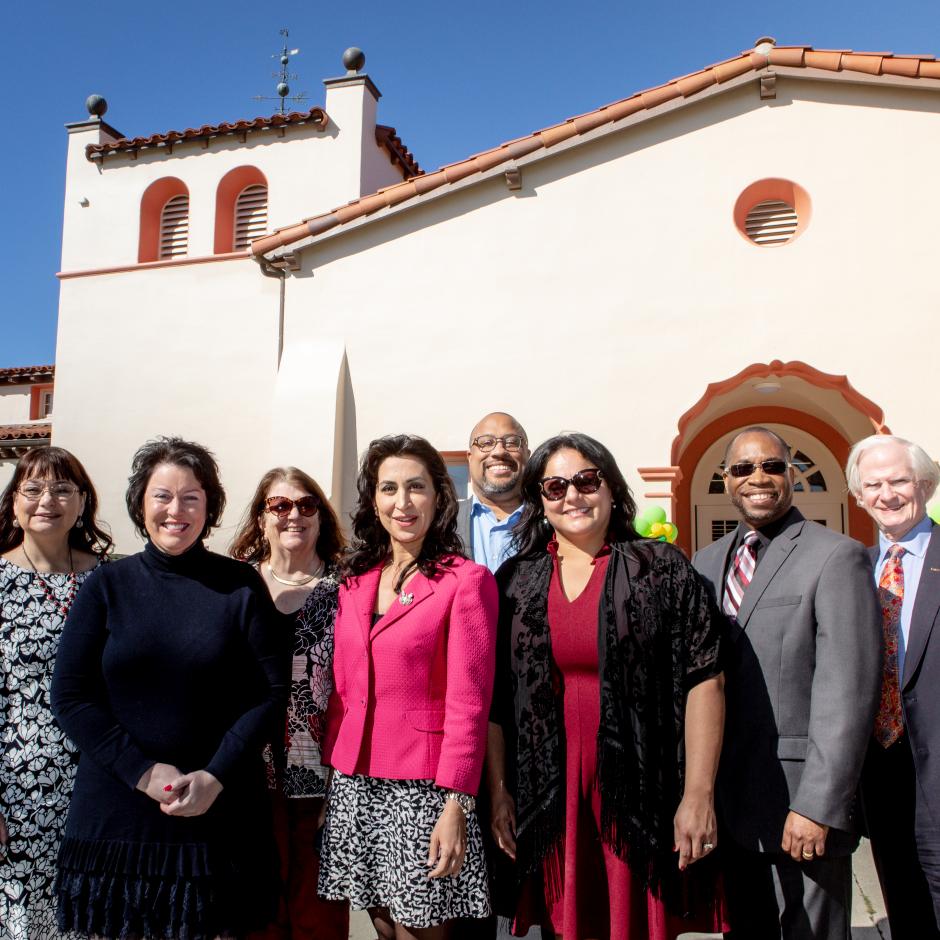 Long Beach Community College District officials celebrated the completion of the Building P upgrades with a ribbon-cutting ceremony on March 14 at the Long Beach City College Liberal Arts Campus.
"Our faculty and our students deserve facilities such as Building P because it enables them to teach and learn with updated equipment in a beautiful environment that still holds a rich academic history," said LBCCD Board of Trustees President Sunny Zia. "Once again, we have the amazing communities of Avalon, Lakewood, Long Beach and Signal Hill to thank for supporting our community college through the bond programs."
The project overhauled the 16,016-square-foot building, which houses the English Department's Composition, Creative Writing, Journalism and Literature programs. This was the first major renovation to the 85-year-old building. Over the years, it had only received minor renovations such as roof and window replacements and the reconfiguration of classroom and office space.
"The renovation of the English Building, the oldest building on campus, represents the very best of what LBCC stands for," said LBCCD Superintendent-President Dr. Reagan Ferragamo Romali. "We have the facilities to meet the needs of today's students with the strong history of great teachers in beautiful campus surroundings."
The renovated building provides students and faculty with five new classrooms, one computer lab, a multi-purpose room, a digital newsroom for the Viking Newspaper, two meeting rooms and 12 offices. It has been upgraded to meet current building codes, including accessibility to disabled students, seismic structural, and fire alarm upgrades. Building P also now features upgraded audio-visual and information technology systems, including motorized screens and projectors that easily link to various devices. The courtyard is reconfigured, with a new stage built for outdoor events.
The $12.8 million project was funded by the Measure E Bond, which has provided $616 million for new construction, renovation and repairs at LBCC's Pacific Coast Campus and Liberal Arts Campus.
The project architect is Steinberg Architects. A&B Construction is the general contractor. The Cordoba Corporation oversees and manages all Measure E projects.
Building P historical facts:
It was the first complete permanent building in 1935 when the Long Beach Junior College (later renamed Long Beach City College in 1946) opened what is now known as the Liberal Arts Campus.
The designer was noted 20th-century architect Kirtland Cutter. It was one of Cutter's last projects after a four-decade career designing hundreds of houses, hotels, and offices in the Northwest and California.
Early campus-wide events took place in the building's courtyard, which was the first public gathering area at the campus.
Building P originally housed facilities for the drama and debate departments and had six different stages. Building P served as a campus space for theater and musical performances until the current auditorium was built in the mid-1950s.
---
About Long Beach City College
Long Beach City College consists of two campuses with an enrollment of over 25,000 students each semester and serves the cities of Long Beach, Lakewood, Signal Hill, and Avalon. LBCC promotes equitable student learning and achievement, academic excellence, and workforce development by delivering high quality educational programs and support services to our diverse communities. Visit www.LBCC.edu for more information about Long Beach City College.
MEDIA CONTACT
Stacey Toda
LBCC Associate Director
Communications & Community Engagement
(562) 938-4004