LBCC Makes Phenomenal Progress in Students Earning Degrees & Certificates
Long Beach City College (LBCC) made exceptional progress in the number of students completing a degree or certificate in the 2018-2019 academic year, and has risen dramatically in its statewide rankings.
LBCC accomplished the following in 2018-2019, creating a culture of exceptional student success:
LBCC was the most improved among all California community college districts in the number of certificates awarded. The College moved into the 29th spot statewide, up from the 68th ranked spot. This result ranks LBCC as the most improved in the state.
LBCC was the second most improved among all California community college districts in the total number of awards, including degrees and certificates. The College moved into the 42nd spot statewide, up from the 70th ranked spot. This result ranks LBCC as the second most improved in the state.
LBCC was the eighth most improved among all California community college districts in the total number of degrees awarded. The College moved into the 54th spot statewide, up from the 69th ranked spot.
LBCC also saw a 29 percent increase in the Associate Degrees for Transfer (ADT) awards. Students awarded with the ADT receive not only an associate degree but also guaranteed admission to a California State University school. Impressive increases in ADT awards were especially seen for LBCC students of color:
53 percent increase for Asian and Pacific Islander students
48 percent increase for African American students
23 percent increase for Hispanic students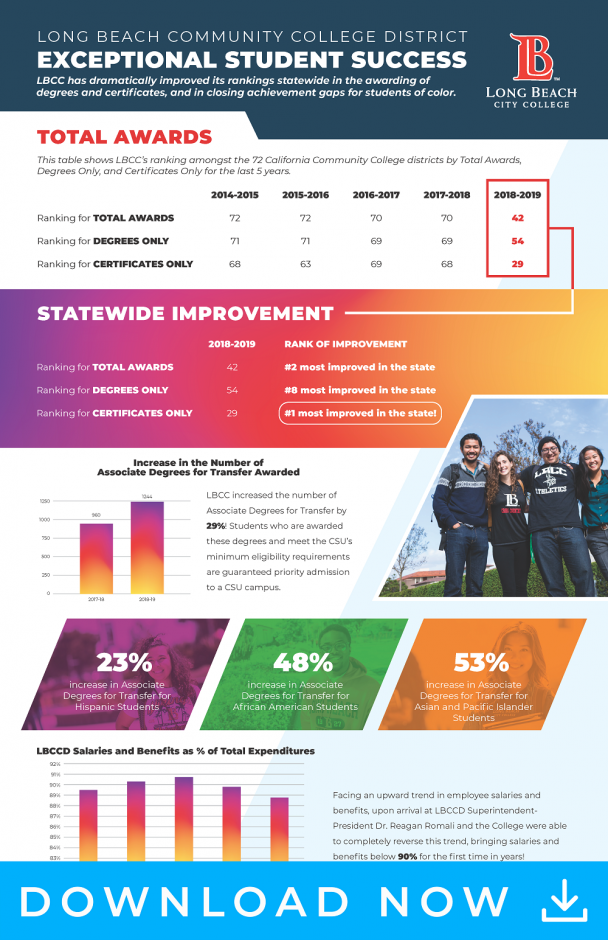 "Our students are very fortunate to have a very dedicated support system in place that truly cares about them achieving their educational goals," said Long Beach Community College District Board of Trustees President Vivian Malauulu. "Everyone who has a hand in each students' academic journey while at LBCC – from the first admissions person they meet through every counselor, professor, coach, financial aid assistant, and on to cafeteria workers, custodians, and groundskeepers they meet throughout the day – all the way up to our administrators and my colleagues on the Board and everyone in between – we all care which is why our Vikings are completing degrees and graduating in record numbers at rates never experienced here."
"I'm proud that we've implemented a number of systemic programmatic and process changes at LBCC with the support of our talented faculty, staff and administrators," said LBCCD Superintendent-President Reagan Romali, Ph.D. "Across the nation, community colleges struggle with identifying ways to best increase completion and provide students with relevant degrees that will place them on a prosperous career path. I think it's clear that the team at LBCC has worked to improve the way we deliver programs and services to best meet student needs. While we continually seek to improve, we have made sure to enhance every element of the student experience to provide support resources, excellent curriculum and top-notch facilities in which to learn."
Institutional changes touched every corner of the college including:
Re-designing the entire enrollment management process, including making enhancements to outreach and the applicant experience
Institutionalizing data-informed decisions
Developing class schedules based on student demand
Re-vamping the financial aid awarding process
Providing accelerated Math and English classes
Re-designing curriculum that meets industry standards and partnering with major local employers such as the Port of Long Beach for internship opportunities and career pathways
Reinstating vocational and trades programs to meet an industry need for skilled employees, providing students with opportunities for jobs in high-demand roles
Creating a culturally-relevant curriculum
Building two-year course scheduling
Increasing student support services such as mental health services and the Office of Basic Needs to assist students with housing, food insecurities, and transportation
Re-designing and accelerating developmental education
Implementing Guided Pathways, a structured methodology for completing coursework that leads to graduation, transfer and job placement
The 2018-2019 findings were based on data standards provided by the California Community College Chancellor's Office (CCCCO). The data was calculated by LBCC's Institutional Effectiveness (IE) team that took information from the CCCCO's DataMart to access Full-Time Equivalent Students (FTES) and awards data for all California Community College districts. The IE team then calculated the ranking based on a ratio of FTES to awards.
---
About Long Beach City College
Long Beach City College consists of two campuses with an enrollment of over 25,000 students each semester and serves the cities of Long Beach, Lakewood, Signal Hill, and Avalon. LBCC promotes equitable student learning and achievement, academic excellence, and workforce development by delivering high quality educational programs and support services to our diverse communities. Visit www.LBCC.edu for more information about Long Beach City College.
MEDIA CONTACT
Stacey Toda
LBCC Associate Director
Communications & Community Engagement
(562) 938-4004