LBCC Named Finalist for Prestigious Bellwether Award
First time in College history to be a finalist for an award for innovation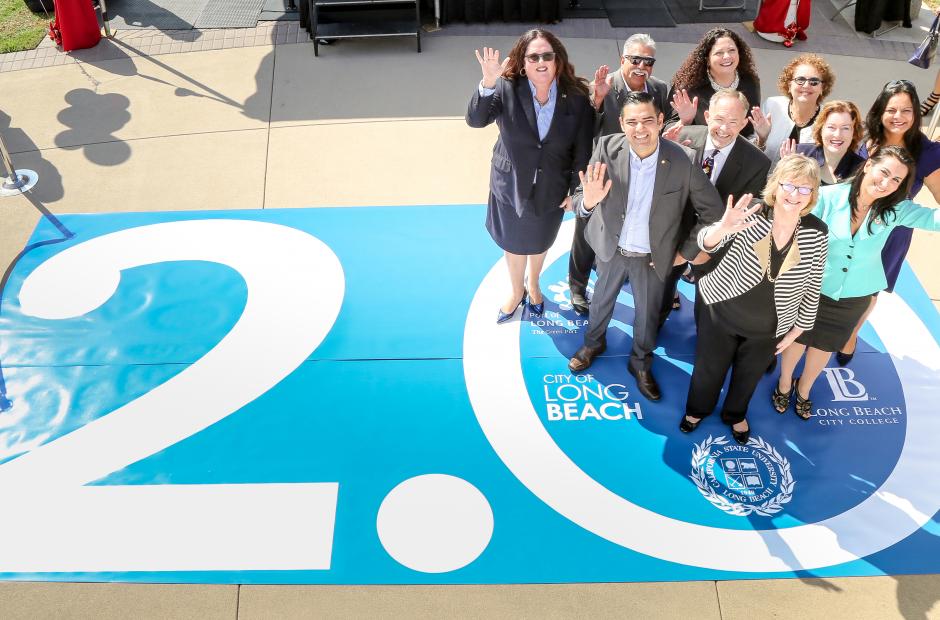 Long Beach City College has been selected as a finalist for the prestigious 2019 Bellwether Award at the upcoming Community College Futures Assembly. The Bellwether Awards are the nation's most competitive and prestigious recognition awards given to community colleges to recognize outstanding and innovative programs or practices.
LBCC submitted its groundbreaking and innovative program entitled "The Long Beach College Promise 2.0" which provides seamless transfer to California State University, Long Beach and key industry partnerships that will provide internship and job placement opportunities for LBCC students allowing students to progress from high school all the way through to a job. LBCC is one of ten finalists in the Planning Governance and Finance category. A team representing LBCC will present at the Bellwether College Consortium Assembly in San Antonio, Texas this February, where the winner of each category will also be announced.
"The Long Beach Community College District Board of Trustees is so proud that such a respected consortium is recognizing the Long Beach College Promise 2.0," said LBCCD Board of Trustees President Sunny Zia. "This innovative enhancement is taking our original College Promise to a whole new level that will benefit our students and our community in groundbreaking ways. I'm looking forward to the opportunity to present Promise 2.0 on a national stage."
LBCC is competing against more than 1,000 community college programs in the areas of: workforce development; instructional programs and services; and planning governance and finance. Ten community college programs in each of the three areas are invited to compete for the coveted Bellwether Award to this year's theme of "Creating a Legacy of Educational Success."
"This is the first time in LBCC history that we've been named a Bellwether finalist and we are thrilled. The Long Beach College Promise 2.0 will significantly transform our students' lives," said LBCC President Dr. Reagan Ferragamo Romali. "The legacy we have created here is nothing short of tremendous."
The Long Beach College Promise has led to a 22 percent increase in the number of LBUSD students who are college ready, and a 55 percent increase in enrollment from LBCC to CSULB.
Promise 2.0 offers a wide range of benefits. By attending LBCC, students have access to the Port of Long Beach and other industry partners and their vast internship and employment network. LBUSD seniors who attend LBCC the fall semester immediately following their spring 2019 graduation also receive two years of free tuition at LBCC (students should demonstrate successful progress towards a certificate, degree, or transfer each term).
For LBUSD seniors who enroll at LBCC and are interested in transferring to CSULB, Promise 2.0 also offers the following enhanced benefits:
Dual advising under a "cohort" model from both LBCC Counselors and CSULB Academic Advisors.
Access to special events and a student ID card for both LBCC and CSULB.
Career exploration activities with both LBCC and CSULB.
The Bellwether College Consortium is a group of colleges charged with addressing the critical issues facing community colleges through applicable research and the promotion and replication of best practices addressing workforce development, instructional programs and services, and planning governance and finance. The Bellwether Award is sponsored by the Institute of Higher Education at the University of Florida, and focuses on cutting-edge, trendsetting programs.
---
About Long Beach City College
Long Beach City College consists of two campuses with an enrollment of over 25,000 students each semester and serves the cities of Long Beach, Lakewood, Signal Hill, and Avalon. LBCC promotes equitable student learning and achievement, academic excellence, and workforce development by delivering high quality educational programs and support services to our diverse communities. Visit www.LBCC.edu for more information about Long Beach City College.
MEDIA CONTACT
Stacey Toda
LBCC Associate Director
Communications & Community Engagement
(562) 938-4004