Campus Construction Continues During COVID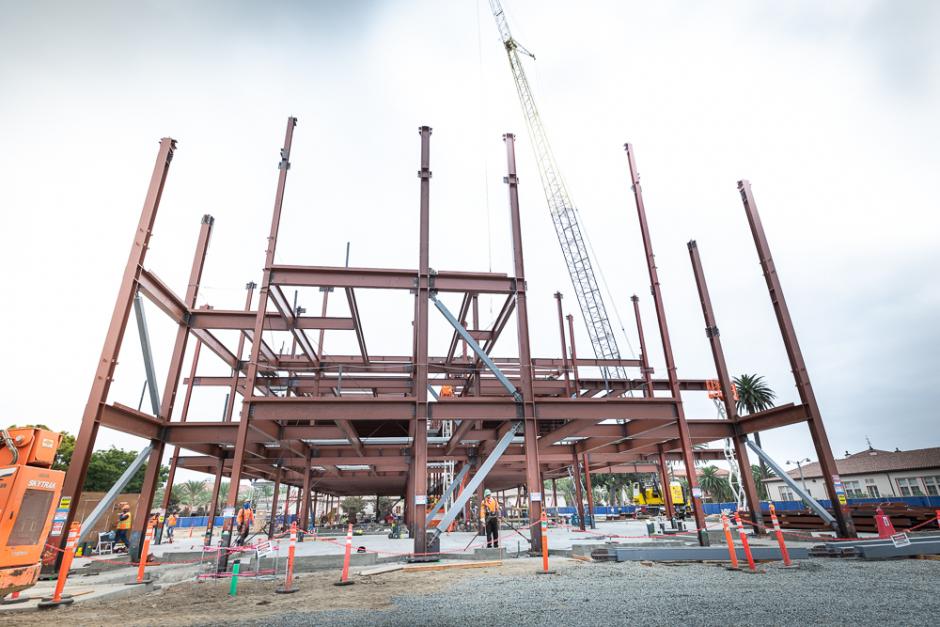 When the COVID-19 pandemic closed the Liberal Arts Campus and the Pacific Coast Campus to faculty, staff, and students in mid-March of this year, work was only just beginning for some milestone construction projects that will change the landscape for many LBCC programs.
Because construction continued to be deemed essential by the state government, the Bond Management Team has been hard at work to take advantage of an empty campus while finishing the renovation of the Auditorium and beginning two of the largest projects since the Bond Programs began more than 15 years ago. Meanwhile, at PCC, the construction of the parking structure is almost complete.
Buildings M and N have been entirely demolished to make way for a new Multi-Disciplinary, three-story building. Language Arts, Foreign Language, Computer and Office Studies will be housed within the 81,970 square feet along with office space. The opening of this building is scheduled for late 2022.
Displaying a drastically different look as well as the athletic field at LAC on the south side of Carson Street. The demolition of U and Y buildings and grading of Faculty Avenue and fields are making way for the creation of the Kinesiology Labs and Aquatic Center (KLAC). A new soccer field, sand volleyball courts, tennis courts, a 50-meter pool, and a newly constructed 15,000 square foot building for locker rooms, showers, storage, pool equipment, and office spaces will be featured. The new softball field for the Vikings is being moved south of the baseball field off of Clark Avenue, within Veterans Memorial Stadium. Completion of KLAC is scheduled for Fall 2021 with a budget nearing $75 million.
After more than two years of remodeling and upgrading, Building J (also known as the Auditorium), is getting its finishing touches. More than 14,000 square feet have been added onto the northwest corner for additional classrooms, offices, storage, and elevator. Structural, accessibility, and fire/life safety have been upgraded to code and a much-needed AV system will be featured.
The primary activity occurring at the Pacific Coast Campus is the continued construction of the parking structure. Located on Pacific Coast Highway between Walnut and May Avenue, the structure will hold more than 500 parking spaces, including solar panels on the roof and electrical vehicle charging stations. The structure is very close to completion and ahead of schedule.
Upcoming projects will include Phase 1 of PCC's MM Building, the Music/Theatre Complex (buildings G and H), and the College Center (Building E).
For more information about the modernization of Long Beach City College, visit www.LBCC.edu/bondmanagement.