LBCC Announces 2018 Hall of Fame Inductees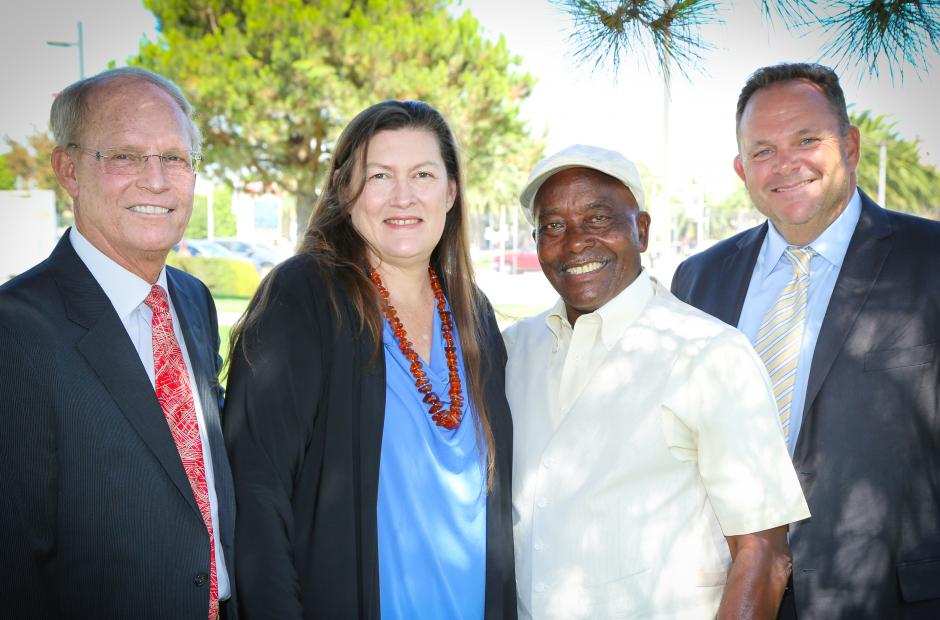 A Long Beach City Councilmember, a veteran law enforcement commander, an educator who continues to give back to the community college he served, and an attorney who is recognized in her expertise in special education law, have been named as Long Beach City College's 2018 Hall of Fame inductees, LBCC officials recently announced.
This year's honorees are: Long Beach City Councilmember Dee Andrews; Seal Beach Police Commander Stephen Bowles; community volunteer and retired LBCC educator Dr. John Fylpaa; and attorney Janeen Steel.
"We are proud to have these four accomplished individuals as part of our Viking family and look forward to honoring them with the College's most prestigious award," said LBCC Superintendent-President Dr. Reagan F. Romali.
LBCC's 2018 Alumni Hall of Fame Induction Ceremony and Dinner is scheduled for Wed., Oct. 17, at 5:30 p.m. at The Grand Long Beach Events Center, 4101 E. Willow St., Long Beach, CA 90815. The LBCC Foundation hosts this annual event.
About this year's inductees:
Dee Andrews – Referred to as the "Son of the Sixth," Andrews is the native son and representative for the Long Beach City Council's Sixth District. He has lived in the Central Long Beach area since age five, excelling in athletics at Poly High School, LBCC and Cal State Long Beach. The former NFL player later became a mentor for juveniles before being elected to the Long Beach City Council in 2007. His third term was captured in 2016 as a write-in candidate.
Stephen Bowles – Second in Command to the Seal Beach Police Chief, Bowles has served more than 24 years in law enforcement for the city in which he also volunteers extensively. The recipient of the Medal of Merit for his role as first responder and Public Information Officer in the Salon Meritage mass shooting, the past Seal Beach Police Officer of the Year is also the founding member of the National Law Enforcement Cancer Support Foundation.
John Fylpaa – An entire career and productive retirement dedicated to the betterment of LBCC students' lives, Fylpaa is one of the most respected educators in the College's 91-year history. The former Associated Student Body Cabinet Advisor, Dean of Student Affairs and Dean of Athletics continues to play a role in mentoring and scholarship assistance for LBCC students through the John Fylpaa Leadership Institute. He serves his community through volunteering with Meals on Wheels, Long Beach Schools Financial Credit Union, the Century Club and many other organizations.
Janeen Steel – One of the foremost experts in special education law, Steel is the founder of the non-profit Learning Rights Law Center. She earned her Juris Doctor at the University of California, Los Angeles School of Law. She received the UCLA La Raza Alumni Association Cesar Chavez Summer Fellowship to create the blueprint for her future – the Learning Rights Manual, an advocacy guide for families of students with disabilities. At LBCC's 85th anniversary gala she was honored as a "Viking of the Decade" for her advocacy work in education for disadvantaged children with disabilities.
"The LBCC Alumni Association and Foundation are thrilled to acknowledge this year's Hall of Fame inductees for their incredible accomplishments and service to the College and community," said LBCC Foundation Executive Director Elizabeth McCann.
Established in 1972, the Hall of Fame recognizes former LBCC students who have made outstanding contributions to their chosen fields and communities. The 2018 honorees will join past honorees who have attended Long Beach City College, from former Mayor Beverly O'Neill and actor John Amos to comedian Paul Rodriguez and philanthropist Naomi Rainey-Pierson, and many others.
For reservations, sponsorship opportunities or other information on the 2018 Alumni Hall of Fame, please contact Paula Barrow. Please RSVP online for the event.
The Long Beach City College Foundation is a nonprofit organization dedicated to raising money to support the students and staff and enhance the learning environment of the Long Beach City Community College District. The LBCC Foundation fulfills this mission by providing funding for scholarships, programs, capital projects, and campus beautification. For more information, please visit www.LBCC.edu/Foundation.