Radio/TV's Bob Hersh is a Hit as Principal for a Day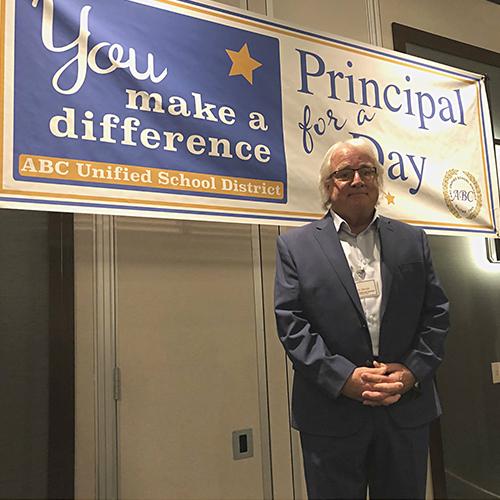 Long Beach City College Radio & Television Professor Bob Hersh was recently selected to serve as "Principal for a Day" at the ABC Unified School District's Tracy High School.
Aside from his teaching duties, Hersh is also a highly acclaimed, multi-Emmy Award winner for his past work with shows like "Battle of the Network Stars" and the "Geraldo Rivera Show."
After a breakfast ceremony at the Cerritos Sheraton hotel, Hersh and Tracy High School Principal Ricardo Brown joined Tracy's KTHS TV Broadcast class, where Hersh shared some inspiring stories and information to the morning news students. Many of them embraced the chance to hold one of Hersh's golden statues while learning about the real world of broadcast television.
"Students were psyched to hold the Emmy," Hersh said. "They all took individual selfies on their phones."
Hersh, who started teaching part-time at LBCC nearly 20 years ago, is looking forward to LBCC's broadcast program partnering with Tracy High School in the near future. The idea stemmed from the High School Counselor's Breakfast LBCC hosted in early 2019.
"I really want to give kudos to those who put that breakfast together because it started the conversation to partner with Tracy High School," Hersh added. "Now the students are planning to come to LBCC for a field trip before the holidays!"
For more information, visit LBCC's Radio & Television program.