Three Colleagues to be Honored for Excellence by League for Innovation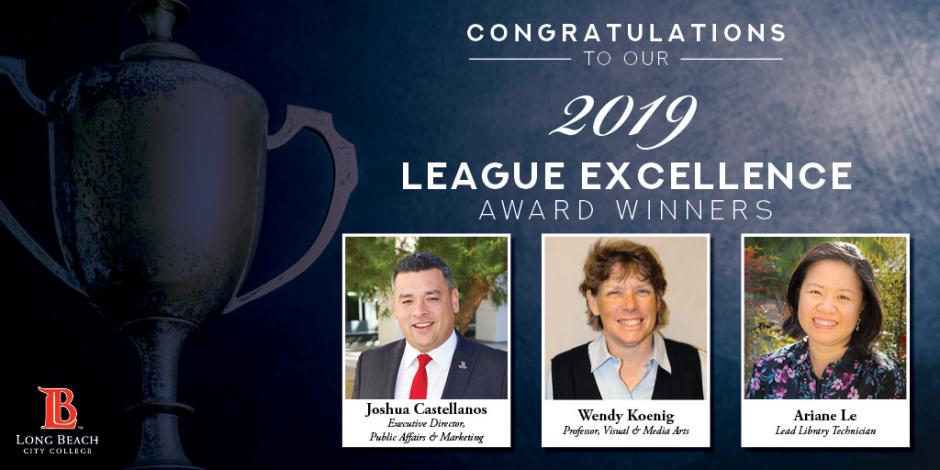 The Long Beach Community College District has announced the three Long Beach City College employees who have been nominated for the 2019 League Excellence Awards (previously known and celebrated as the John & Suanne Roueche Excellence Awards) by the League for Innovation in the Community College.
The 2019 recipients are Joshua Castellanos, Wendy Koenig, and Ariane Le.
Castellanos is the Executive Director of the LBCC Public Affairs and Marketing Office, overseeing Marketing, Communications, Outreach, and Academic Partnerships.
He joined LBCC in 2018. Since then, he has lead his Public Affairs and Marketing team in earning multiple awards from the California Community Colleges Public Relations Organization and garnered kudos for successful community events to inform the public of LBCC initiatives and programs.
Since arriving at Long Beach City College, Castellanos has captured attention for tactical marketing campaigns for the Career Technical Education programs and trades, increased advertisements and outreach efforts to the District community through direct mail, social media platforms and video production.
Before joining the faculty at Long Beach City College in 2014, Dr. Koenig was an Assistant Professor at Middle Tennessee State University and Associate Professor of Art History at North Central College in Naperville, Illinois.
Her own education is as expansive as her teaching career. She earned her Bachelor of Art from the University of Louisville in Kentucky, a Diploma in Decorative Arts from Glasgow University in Scotland, and a Master of Fine Arts from Ohio University.
While working on her Ph.D. at The Ohio State University, Dr. Koenig participated in graduate research and scholarships in France, Germany, and Russia.
She has authored a variety of books, articles, and essays primarily focused on the Holocaust, as well as multiple exhibition reviews and presentations on a variety of subjects within the arts.
At LBCC she teaches courses in Prehistoric, Gothic and Modern Art as well as Modern and Contemporary Art, African, Oceanic, Native American and Asian Art as well as Art Appreciation.
Recently she was also named a finalist in faculty innovation by the American Association of Community Colleges Awards.
Le is the Lead Library Technician at Long Beach City College's Pacific Coast Campus Library.
Le holds a Master's Degree in Library and Information Science (MLIS) from San Jose State University and graduated Cum Laude with her Bachelor's Degree in Psychology from California State University, Long Beach.
Le currently serves as the LBCC Classified Senator for Area 3. She was a member of the inaugural cohort of LBCC's LEAD Academy, a leadership professional development program. She is also an adjunct librarian and is fluent in Vietnamese and French.
Before her employment at LBCC, Le worked in the Orange County Public Library System and Golden West College.
She is known at LBCC as a conscientious colleague, a loyal friend, and ardently devoted to the College.
The awards will be presented at the League's annual Innovations Conference in March.