Long Beach Summer Band Concert
Open to all high school, college, and community musicians!
Directors
Brian Hamilton – Director of Bands
(Long Beach City College)
Dr. Jermie Arnold – Director of Bands
(The Bob Cole Conservatory of Music)
Concert Dates & Location
Wednesday, July 12 at 6:00 p.m.
LBCC Auditorium Liberal Arts Campus - Building J
(4901 E. Carson Street, Long Beach, CA 90808)
Located on Harvey Way between Clark and Faculty Avenue
Rehearsal Dates & Locations
June 26 & 28 – CSULB Band Room (A-311)
July 3, 5, 10 – LBCC Auditorium (J Bldg.)
All Rehearsals: 7:00 – 9:00 p.m.
Sign-up at Rehearsal – $60 Fee (Cash, Check, or CC)
Parkings
Parking permits can be purchased on-site.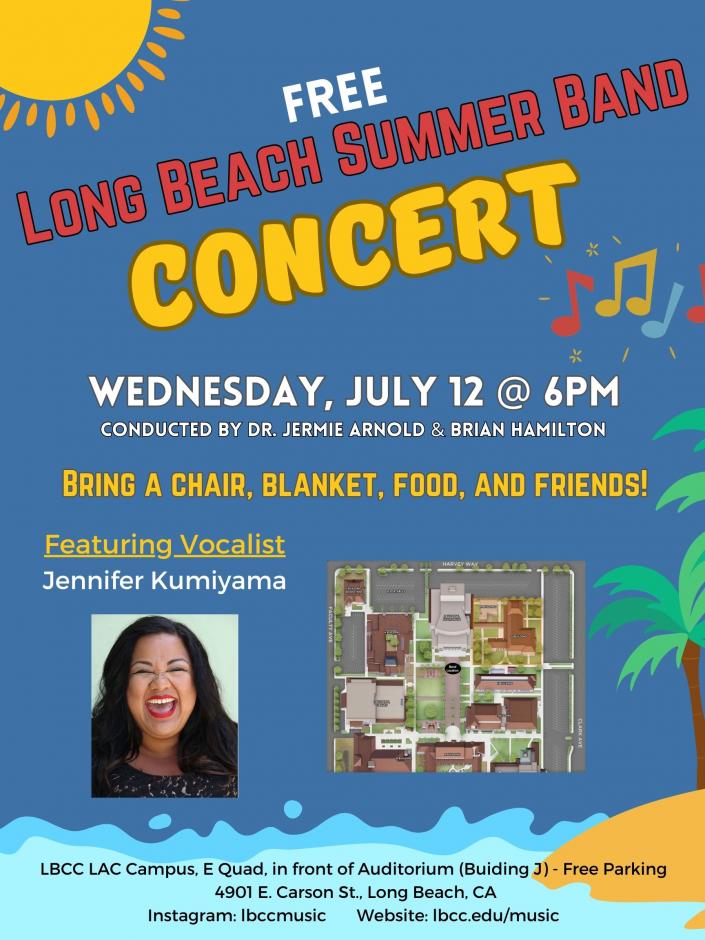 ---
GENERAL ANNOUNCEMENT:
Please note for Accommodations: At least 72 hours prior to the event, (562) 938-4558 (voice), (562) 353-4217 (videophone), & dsps-staff@lbcc.edu // Sign Language Interpreting, please contact Stephanie Bonales at sbonales@lbcc.edu or (562) 938-4918.
Communication Access Realtime Translation (CART) services, 5 business days prior to the event, please contact Human Resources Staff at cart@lbcc.edu *requests are based on provider availability*