The Mousetrap
Performing Arts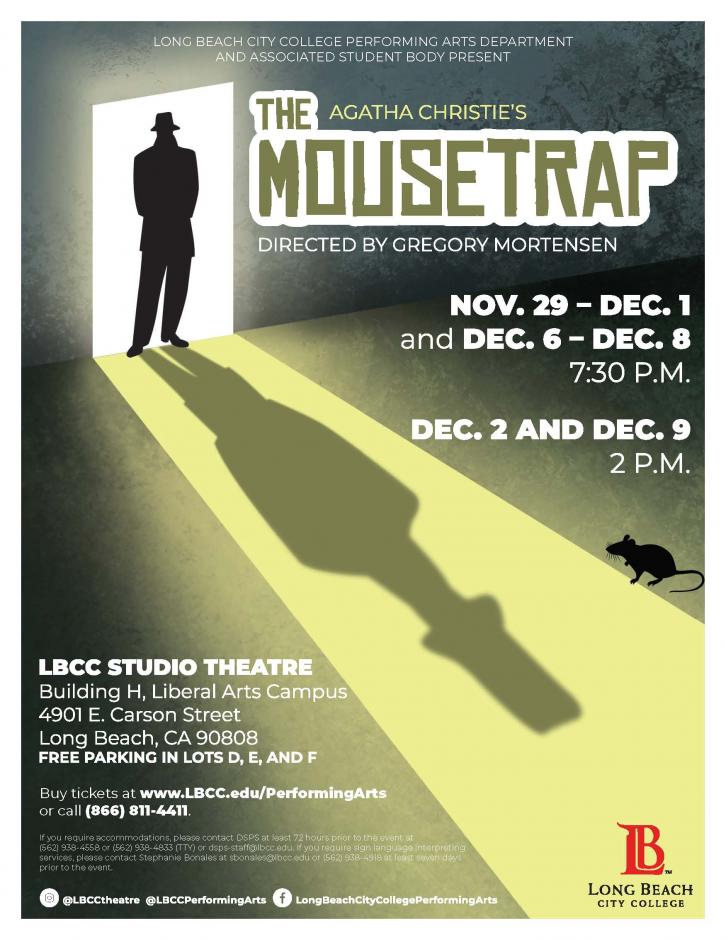 Long Beach City College Performing Arts Department and Associated Student Body present, Agatha Christie's, The Mousetrapdirected by Gregory Mortensen. This performance will be running Nov. 29 – Dec. 1 and Dec. 6 – Dec. 8 starting at 7:30 pm and from Dec. 2 – 9 starting at 2:00 pm at the LBCC Studio Theater on the LAC Campus.
LBCC Studio Theatre
Building H, Liberal Arts Campus
4901 E. Carson Street
Long Beach, CA 90808
Free parking is available in Lots D, E, and F. For tickets, please visit OvationTix or call (866) 811-4411.
---
GENERAL ANNOUNCEMENT:
Please note for Accommodations: At least 72 hours prior to the event, (562) 938-4558 (voice), (562) 353-4217 (videophone), & dsps-staff@lbcc.edu // Sign Language Interpreting, please contact Stephanie Bonales at sbonales@lbcc.edu or (562) 938-4918.
Communication Access Realtime Translation (CART) services, 5 business days prior to the event, please contact HR Analyst: Jaymee Hunt 562-938-4547 | j2hunt@lbcc.edu or Sonia Leticia Vélez 562.938.4323 | svelez@lbcc.edu. *requests are based on provider availability*