She Kills Monsters – The Drama-comedy
LBCC Auditorium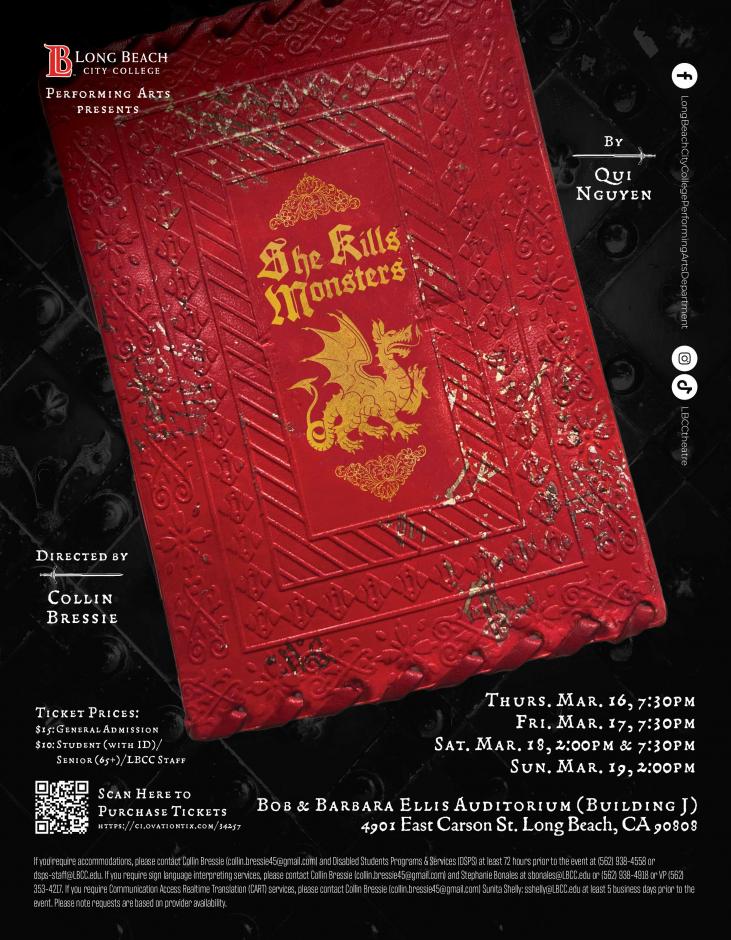 She Kills Monsters is a drama-comedy play by Qui Nguyen that debuted in 2011. It tells the story of Agnes Evans, an average woman who loses her parents and little sister Tilly in a car accident. Having been very distant from her sister while she was alive, Agnes embarks in an adventure to get to know her sister better by playing a Dungeons & Dragons module that Tilly had written, and discovers things she'd never imagined. The plot takes place in reality and in the imaginary game world; in the game world Agnes learns about Tilly's exploration with her sexuality and how she struggled with her sexuality in reality.
Written by: Qui Nguyen
Directed by: Collin Bressie
DAY/TIME:
Thurs. March 16, 7:30pm
Fri. March 17, 7:30pm
Sat. March 18, 2:00pm & 7:30pm
Sun. March 19, 2:00pm
LOCATION: LBCC Auditorium (LAC-Building J)
4901 E. Carson Street Long Beach, CA 90808
---
STUDENTS ONLY
If you require Sign language interpreting services or Communication Access Realtime Translation (CART) services , please contact Event Coordinator and Stephanie Bonales at least 72 hours prior to the event at (562) 938-4918 or sbonales@lbcc.edu.

FACULTY AND STAFF ONLY
If you require Sign language interpreting services, please contact Event Coordinator and Rebecca Lucas at rlucas@lbcc.edu at least 5 business days prior to the event.

If you require Communication Access Realtime Translation (CART) services, please contact Event Coordinator and Jaymee Hunt at cart@lbcc.edu at least 5 business days prior to the event. *Please note requests are based on provider availability*