Berlyn Cobian
Professor, English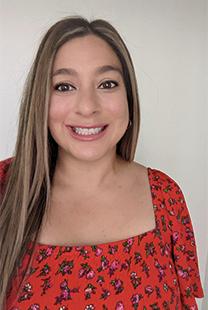 Berlyn Ortega Cobian specializes in teaching composition, rhetoric, 19th-century American literature, and Latino/Latina/Latinx literature. Further areas of interest and research include: indigenious literatures of North America, contemporary multicultural production, and theories of cognition and story-telling. Currently, Berlyn serves as the chair of Colegas, the Latinx-affinity organization for LBCC faculty and staff. At LBCC, Berlyn has organized several large campus-wide events with guest poets and authors. She has also been awarded the college's Student Success Award which she was nominated and voted for by students for excellence in teaching. She is presently part of LBCC's inaugural ​​Borderless Leadership Conference held in Guanajuato, Mexico in conjunction with UCI, UCSD, and Centro Fox.
Berlyn received her B.A. from UCLA with a degree in American Literature and Culture and a minor in Chicana and Chicano Studies. During her undergraduate years at UCLA, she was on the board of the Latin American Student Association. She received her M.A. in English from California State University, Fullerton where she was president of Teaching Writing, a graduate student organization, and co-editor of Pupil, a journal centered on rhetoric and composition pedagogy. Her master's thesis advocated for bridging academic and non-academic writing in composition studies, specifically investigating how emerging digital media impact rhetoric and composition.
In addition to her membership in LBCC's Colegas organization, she is also currently a member of the American Comparative Literature Association, the National Council of Teachers of English, and UCLA Friends of English.
Outside of academia, she enjoys traveling, analyzing rap lyrics with her husband, dancing with her two young daughters, going out to eat with friends, and reading biographies on Prince Albert of Saxe-Coburg and Gotha.