Martha L.Z. Pamintuan
Associate Professor, Dance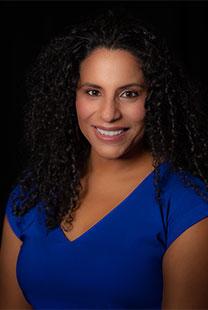 Martha L. Zepeda Pamintuan is a Bay Area Native, choreographer, dance artist, dance educator, fitness professional and a Full-time Professor of Dance at Long Beach City College. Martha earned her MFA on a full scholarship from the University of California, Irvine in 2010 and a BA in Dance with an emphasis in Performance and Choreography, and a Minor in Kinesiology from San Francisco State University in 2006. Martha is the Co-Artistic Director, Co-Founder, and Co-Choreographer of LV Dance Collective, a Contemporary Fusion Dance Performance Company spanning from the Bay Area to most recently Southern California. She is the former Cultural Arts Program Director of the East Oakland Sports Center (EOSC) and Founder and Artistic Director of the EOSC Introductory School of Dance and EOSC Performance Group. Martha is a certified Zumba instructor, Ballet Barre instructor, Water Fitness Instructor, Spinning instructor, and CPR/AED First Aid Instructor trainer. Pamintuan has toured internationally for various dance projects in Chile, Vietnam, Spain, and Ghana. She is also a long distance runner and a former Collegiate Swimmer for SFSU.
Mrs. Pamintuan's dance career officially began at Skyline High School in Oakland, California under the direction of Ms. Dawn James. Although she started dancing at a late age she always dreamt of being a dancer since she was a little girl. Following high school, she continued her training at SFSU, Lines Ballet, ODC, Shawl Anderson, and Ballet Hispanico to name a few. Her passion for Dance kept strong pushing through as a dance artist studying, choreographing, performing, and teaching nationally and internationally. While at UCI Mrs. Zepeda earned several travel grants and a Diversity Fellowship. Her Master's thesis Experiences of Men en Pointe & the Anthropometry, Range of Motion, & Injuries of Their Ankles and Feet and 50-minute thesis documentary Men That Pointe researches male pointe dancers of Les Ballet Trockadero de Monte Carlo and former male pointe dancers of Les Ballet Grand Diva.
During her time as Cultural Arts Program Director Martha was awarded the City of Oakland Parks & Recreation Employee of the year for 2014. She appeared on KQED Forum "Affordable Fitness in the Bay Area" broadcasting Nationally through NPR (National Public Radio). She also earned various grants for student programming and dance studio equipment including the Thompson Bliss Grant, Youth Scholarship Grants – Friends of OPR, etc.
In addition, Zepeda has served as dance faculty at various Colleges in Southern California and the Bay Area including UCI, Fullerton Community College, SFSU, and the College of Alameda as well as The Wooden Floor, Images Dance Place, Elite Dance Studio, and Orange County Children's Therapeutic Arts Center, as well various workshops and dance intensives. She has toured internationally performing, instructing and choreographing in Chile, Vietnam, Spain, and Ghana. Recently, Martha was awarded the Fall 2014 and Spring 2014 ChoreoProject Award "Best Choreography" for her work "Size 9", and collaborative work (collaboration with her dance partner Kao Vey Saephanh) "Quest for Truth" by sjDANCEco Maria Basile and Gary Masters. Her work and her company LV Dance Collective, have been awarded and selected to showcase work at the 2015 and 2014 PUSHfest in SF, Eigth Summer Performance Festival, ODC Pilot 63, Resident Artist Workshop through SAFEHouse for the Performing Arts and the Garage, and Runner Up for Luna Dance Institute Choreofund 2 to name the least.
Zepeda has performed and worked with David Herrera Performance Company, Jaara Dance, Layla and the Lotus International Dance Company, Epiphany Dance Company, DTM2 Improvisation Ensemble, Nguyen Dance Company, the Rainbow Arts Theatre, Donald McKayle, Jodie Gates, Sheron Wray, Jennifer Fisher, Loretta Livingston, Pavel Zustiak, Lisa Naugle, John Crawford, Chris Yon, Grete Gryzwana, Lee Wei Chao, Stacey Printz, Jose "Hollywood" Ramos, Alicia Pierce, Dr. Albirda Rose, Paco Gomes, Susie Whipp, Wendy Diamond, Cathleen McCarthy, and Dawn James.
Falling in love with a healthy movement lifestyle Martha also dedicates herself to cross conditioning teaching various fitness classes including Zumba, Ballet Barre, Water Aerobics, Boot Camp, Abdominal and Core, Swimming, and a variety of other conditioning courses. Martha believes that "as long as you are moving you can do anything". Finally, Mrs. Pamintuan aspires to empower, inspire, encourage, and spread the love of a healthy mind, body, soul, and community through movement while communicating what words can't express, all through the language of the soul: dance.