Stephanie Powell
Professor, Dance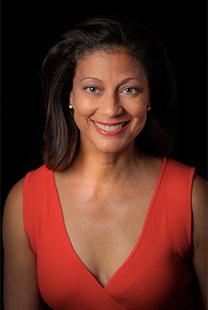 Professor Stephanie Marie Powell is a California native and a tenured full Professor in Dance at Long Beach City College. Throughout her academic teaching career she has taught courses in Dance Appreciation, Choreography, Composition, Classical Ballet, Contemporary Ballet, Pointe, Modern Dance, Jazz, Turns, Zumba, Dance Conditioning, Stretch and Relaxation, Dance History, Hip Hop Dance History, Performance Workshop, Yoga and Pilates. Professor Powell is a certified instructor of the New York City Ballet Workout, Zumba, Qiginition and Body Arts and Science International Pilates with a Dance Specialization. Ms. Powell has taught as a part-time instructor at the University of California, Irvine in Ballet, Modern Dance and the Etude Ensemble. She is the principal interpreteur of the choreographic works for the legendary choreographer Donald McKayle and stages his work around the world.
Ms. Powell's dance training began with Cindy Trueblood at the Civic Dance Center in Bakersfield, California and her studies continued on scholarship with Pacific Northwest Ballet in Seattle, Washington and the School of American Ballet at Julliard in New York City. She received her B.A. from the University of California at Berkeley in Sociology and Education and a Master of Fine Arts in Dance with distinction from the University of California at Irvine as a Chancellor's Fellow, where she was honored with the Celebration of Teaching Award and the Distinguished Alumnus Award from the Claire Trevor School of the Arts. She danced professionally and toured internationally with major dance companies such as the Oakland Ballet Company, the San Francisco Opera, The Dance Theatre of Harlem, Donald Byrd/The Group, Las Vegas Contemporary Dance Theater and Alvin Ailey American Dance Theater. Ms. Powell was a performer in the Los Angeles Pantages Theater production of the Broadway show "Lion King" where she danced featured principal roles as well as performed as a principal singer and actress. Additionally, Powell has modeled internationally for Redken and Trevor Sorbie of the UK. She has appeared on television in the Grammy's, on the Jay Leno Show and has danced commercially for artists such as MC Hammer, Kenny G., Janet Jackson, and Beyonce Knowles.
For the LBCC Dance Program, Powell has fundraised over $40,000 by organizing student involvement in car washes, obtaining hundreds of opportunity drawing prize donations, corporate monetary gifts, costume donations, organizing TV tapings, t-shirt, roses and concession sales. These funds have afforded students and faculty the opportunity to travel out of state to the American College Dance Festivals and purchased Pilates Reformer equipment for students. She was instrumental in attaining a $50,000 ASB grant to install a state of the art sprung dance floor in the Q-building Dance Studios. As a scholarly researcher, she is responsible for creating two new online courses for Dance (Dance History and Hip Hop Dance History) to give more students accessible opportunities to attain an A.A. degree from LBCC through the Distance Learning Program.
Powell is the only full-time African-American faculty member in the Theatre, Dance and Film department, and was selected by Human Resources to inspire diversity among new faculty at LBCC in the advertisement brochure. In addition to her course load, she created the "Dance Showcase" which features all of the course offerings in Dance at LBCC. She incorporates the work of other colleagues in disciplines such as Science, Photography, Graphic Design, Music, Radio, Television, Fashion, Film and Theater to name a few. She is responsible for establishing the first cable television premiere of the "Dance Ensemble in Concert," photographic marketing of Dance Students for publicity and has consistently been recognized by the Viking Newspaper for encouraging student success through Dance. She has directed two "High School Dance Invitational" events where she has recruited the students of twelve (12) local high school Dance programs to perform on the LBCC stage. Powell serves as the Dance Club Advisor and works closely with the campus Outreach and Recruitment Coordinators to support President Eloy's wish for all 4th graders to experience a campus tour. She is also on several College Service committees such as the Fine Arts Association, the 85th Anniversary committee, the Distance Learning Plan Implementation Oversight Task Force and she is a Student Learning Outcome Committee Officer for her department.
As a testament to her reputation and contributions, Powell was a recipient of the Long Beach Post Award for Best Teacher in the city of Long Beach and in March of 2010 she was a nominee for the 2010 "Woman of the Year" Award by the 54th Assembly District's Assembly member Bonnie Lowenthal and most recently the Black Leadership Advancement Coalition Alumni Award for 2012.
Professor Powell continues to dance as a performing artist today and has taught and choreographed her own work in contemporary dance and ballet throughout the US, Australia, Europe and Asia. She serves as a volunteer for the NAACP and is on the committee that will organize the International Association of Blacks in Dance Festival in 2014. Powell attends conferences regularly for continued education in her artform to bring up to date information, dance techniques and digital technology to her students in the LBCC classroom. She has taught classical Ballet at the world renowned "Debbie Allen Dance Academy" in Los Angeles and performed in her production of the "Hot Chocolate Nutcracker" at Royce Hall-UCLA. Powell was also be featured in an upcoming article as a leading figure in the community in the Cultural Arts Guide for the Long Beach Business Journal.
Course Documents:
Stretch and Relaxation Syllabus - Spring 2018
Pilates Syllabus Spring 2018
Dance 41 Syllabus - Spring 2018
Intro to Dance Syllabus
Anatomy
Rubric for Int. Ballet
Rubric for Int. Modern
Rubric for Pilates
Rubric for Dance Concert Critique Paper
Student Course Agreement
Ballet Terms, Ballet 1 & 2