2019-2020 Federal Work-Study Job Fair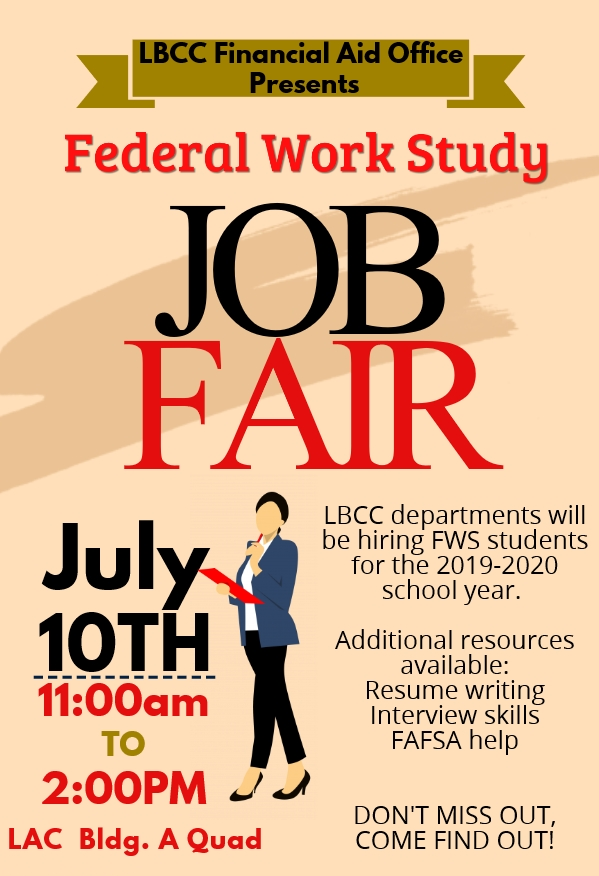 The Financial Aid Office is excited to announce that it will be hosting its first annual Federal Work-Study (FWS) Job Fair! The 2019-2020 FWS Job Fair is intended to facilitate the hiring process for students and campus departments. It is designed to assist students who have been awarded federal work-study as part of their financial aid package, or who are interested in participating in the federal work-study program, to locate available positions on campus.
If you or your department or office is interested in participating in the 2019-2020 FWS Job Fair, please complete the FWS Job Fair Employer Registration Form and submit to myself, Rosario Esparza, no later than Tuesday, May 28th, 2019. To ensure your department or office is guaranteed a table at the event, please submit the form before the deadline.
Wednesday, July 10, 2019
11:00 a.m. — 2:00 p.m.
Liberal Arts Campus (LAC) A Building Quad Area
The FWS Job Fair will also have:
Financial Aid Specialists available to answer FAFSA questions, verify FWS eligibility, and process Assignment Notices and, if applicable, new-hire documentation.
Dora Garcia from Human Resources and Luis Roa from Payroll present to answer any questions regarding their respective departments and how they support the Federal Work-Study program.
Assistance to students with resume writing and interview skills.
Music, snacks, and fun!
We hope to see you this summer at our Federal Work-Study Job Fair! Please feel free to pass this message along to anyone interested.
---
If you require accommodations, please contact the Disabled Students Programs & Services (DSPS) at least 72 hours prior to the event at (562) 938-4558 or (562) 938-4833 (TTY) or dsps-staff@lbcc.edu. If you require sign language interpreting services, please contact Stephanie Bonales at sbonales@lbcc.edu or (562) 938-4918 at least 7 days prior to the event.