2nd Annual Long Beach Hospitality Job Fair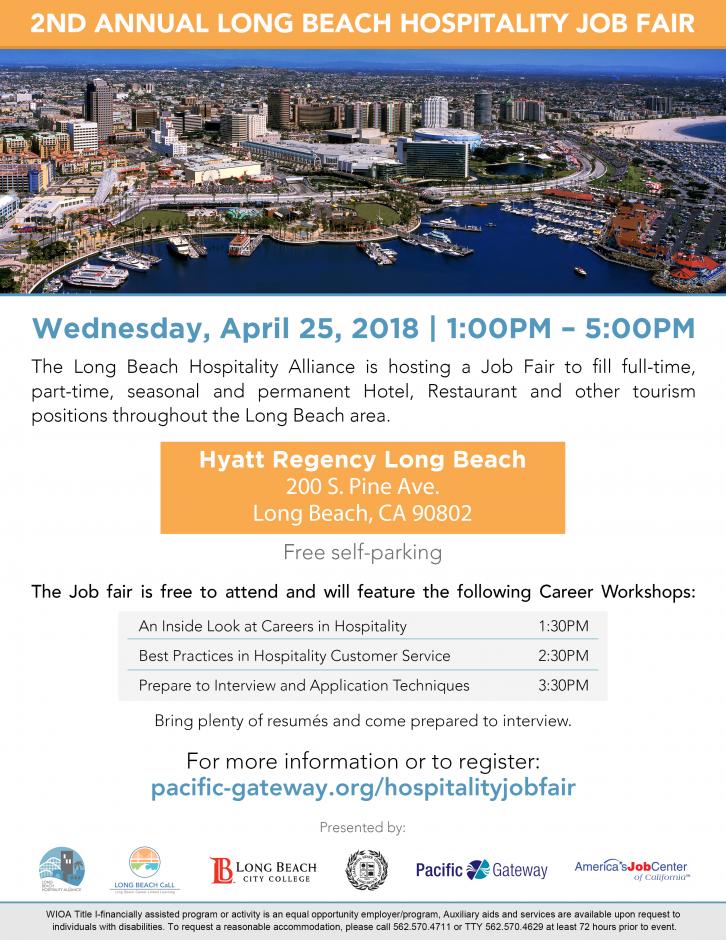 2nd Annual Long Beach Hospitality Job Fair
Wednesday, April 25, 2018
1:00 p.m. - 5:00 p.m.
Hyatt Regency, Long Beach
200 S. Pine Ave.
Long Beach, CA 90802
Free self-parking
The Long Beach Hospitality Alliance is hosting a Job Fair to fill full-time, part-time, seasonal and permanent Hotel, Restaurant and other tourism positions throughout Long Beach.
The job fair is free to attend and will feature the following Career Workshops:
An Inside Look at Careers in Hospitality – 1:30 p.m.
Best Practices in Hospitality Customer Service – 2:30 p.m.
Prepare to Interview and Applications Techniques – 3:30 p.m.
Bring plenty of resumes and come prepared to interview.
For more information or to register: pacific-gateway.org/hospitalityjobfair
---
GENERAL ANNOUNCEMENT:
Please note for Accommodations: At least 72 hours prior to the event, (562) 938-4558 (voice), (562) 353-4217 (videophone), & dsps-staff@lbcc.edu // Sign Language Interpreting, please contact Stephanie Bonales at sbonales@lbcc.edu or (562) 938-4918.
Communication Access Realtime Translation (CART) services, 5 business days prior to the event, please contact HR Analyst: Jaymee Hunt 562-938-4547 | j2hunt@lbcc.edu or Sonia Leticia Vélez 562.938.4323 | svelez@lbcc.edu. *requests are based on provider availability*