Amplify Your Voice
Increasing Empathy & Growth on Campus
A space for LBCC students to come together and share their experiences to increase empathy for one another, and inclusion on the LBCC campus.
If you require accommodations, please contact DSPS at least 72 hours prior to event at (562) 938-4558 or (562) 938-4833 (TTY) or dsps-staff@lbcc.edu.If you require sign language interpreting services, please contact Stephanie Bonales at sbonales@lbcc.edu or (562) 938-4918 at least 7 days prior to the event.
A candid conversation for LBCC students to share their truths and hopes.
Zoom Meeting ID: 955 6926 7389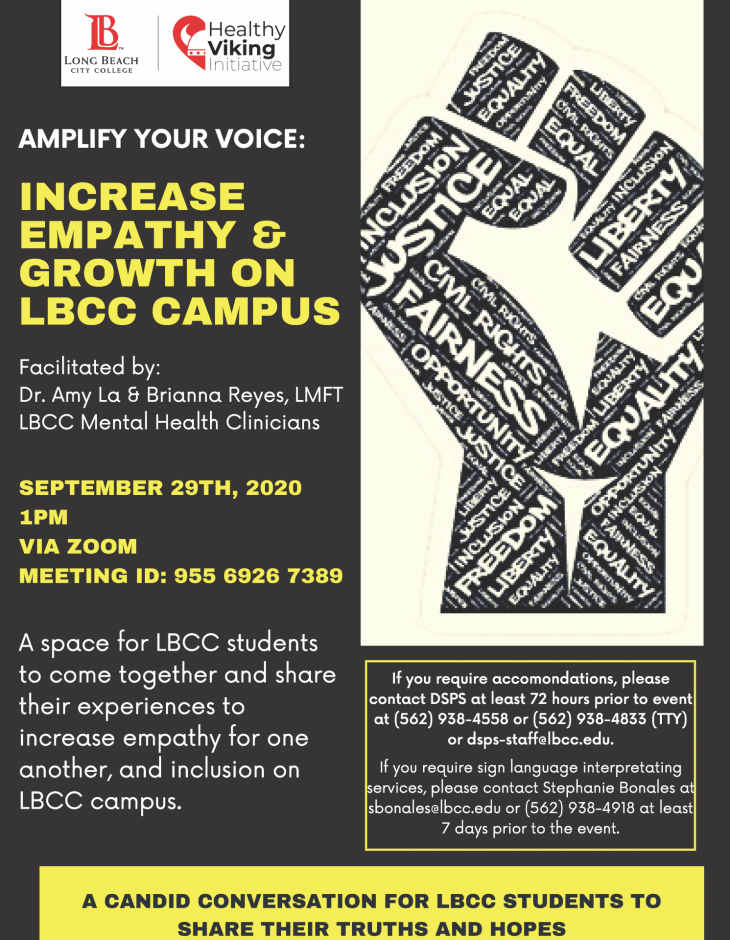 ---
GENERAL ANNOUNCEMENT:
Please note for Accommodations: At least 72 hours prior to the event, (562) 938-4558 (voice), (562) 353-4217 (videophone), & dsps-staff@lbcc.edu // Sign Language Interpreting, please contact Stephanie Bonales at sbonales@lbcc.edu or (562) 938-4918.
Communication Access Realtime Translation (CART) services, 5 business days prior to the event, please contact HR Analyst: Jaymee Hunt 562-938-4547 | j2hunt@lbcc.edu or Sonia Leticia Vélez 562.938.4323 | svelez@lbcc.edu. *requests are based on provider availability*