Are you ready to QUIT SMOKING?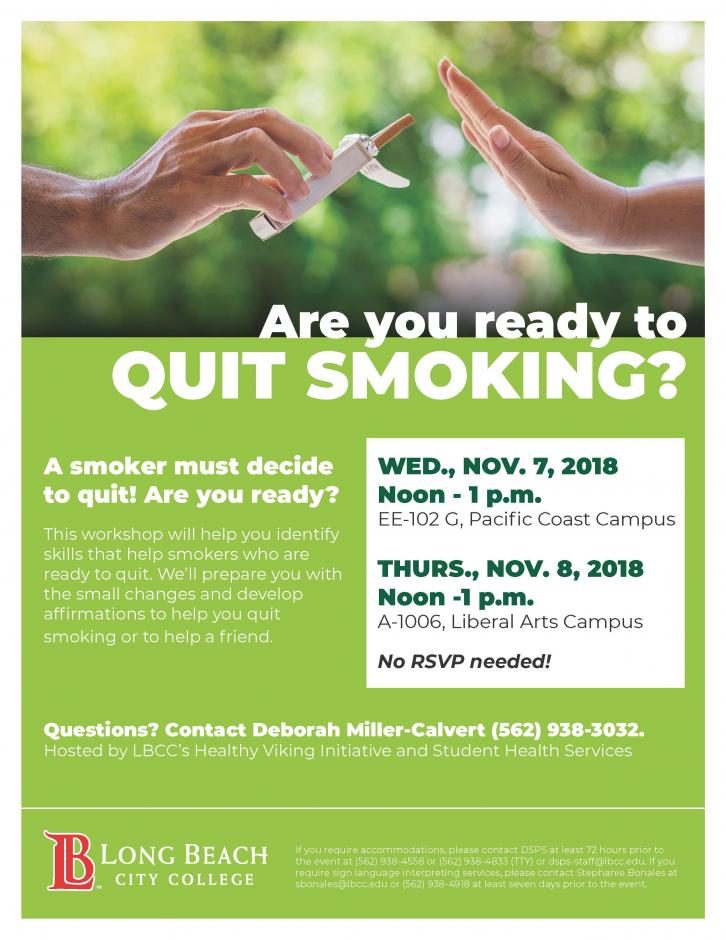 A smoker must decide to quit! Are you ready?
This workshop will help you identify skills that help smokers who are ready to quit. We'll prepare you with the small changes and develop affirmations to help you quit smoking or to help a friend.
WED., NOV. 7, 2018
Noon – 1 p.m.
EE-102 G, Pacific Coast Campus
THURS., NOV. 8, 2018
Noon -1 p.m.
A-1006, Liberal Arts Campus
No RSVP needed!
Questions? Contact Deborah Miller-Calvert (562) 938-3032.
Hosted by LBCC's Healthy Viking Initiative and Student Health Services
---
If you require accommodations, please contact the Disabled Students Programs & Services (DSPS) at least 72 hours prior to the event at (562) 938-4558 or (562) 938-4833 (TTY) or dsps-staff@lbcc.edu. If you require sign language interpreting services, please contact Stephanie Bonales at sbonales@lbcc.edu or (562) 938-4918 at least 7 days prior to the event.