Building Consciousness Building the Future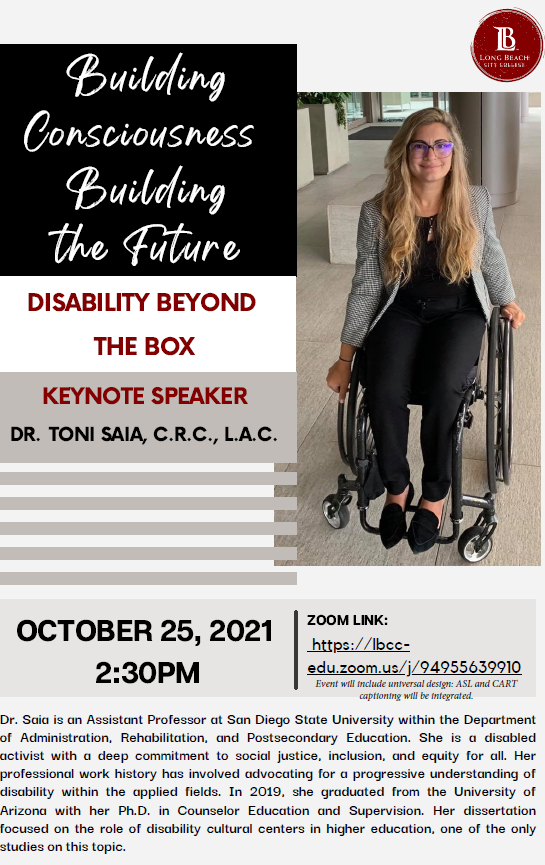 DISABILITY BEYOND THE BOX
KEYNOTE SPEAKER: DR. TONI SAIA, C.R.C., L.A.C.
OCTOBER 25, 2021
2:30PM
Zoom: https://lbcc-edu.zoom.us/j/94955639910#success
Dr. Saia is an Assistant Professor at San Diego State University within the Department
of Administration, Rehabilitation, and Postsecondary Education. She is a disabled
activist with a deep commitment to social justice, inclusion, and equity for all. Her
professional work history has involved advocating for a progressive understanding of
disability within the applied fields. In 2019, she graduated from the University of
Arizona with her Ph.D. in Counselor Education and Supervision. Her dissertation
focused on the role of disability cultural centers in higher education, one of the only
studies on this topic.
Event will include universal design: ASL and CART captioning will be integrated.
---
GENERAL ANNOUNCEMENT:
If you require accommodations, please contact the Disabled Students Programs & Services (DSPS) at least 72 hours prior to the event at (562) 938-4558 or (562) 938-4833 (TTY) or dsps-staff@lbcc.edu. If you require sign language interpreting services, please contact Stephanie Bonales at sbonales@lbcc.edu or (562) 938-4918.
If you require Communication Access Realtime Translation (CART) services, please contact Sunita Shelly: sshelly@lbcc.edu / 562.938.4947 or Sonia Leticia Vélez: svelez@lbcc.edu at least 5 business days prior to the event. Please note requests are based on provider availability, the more advance notice the better.