CalFresh Sign-Up
LAC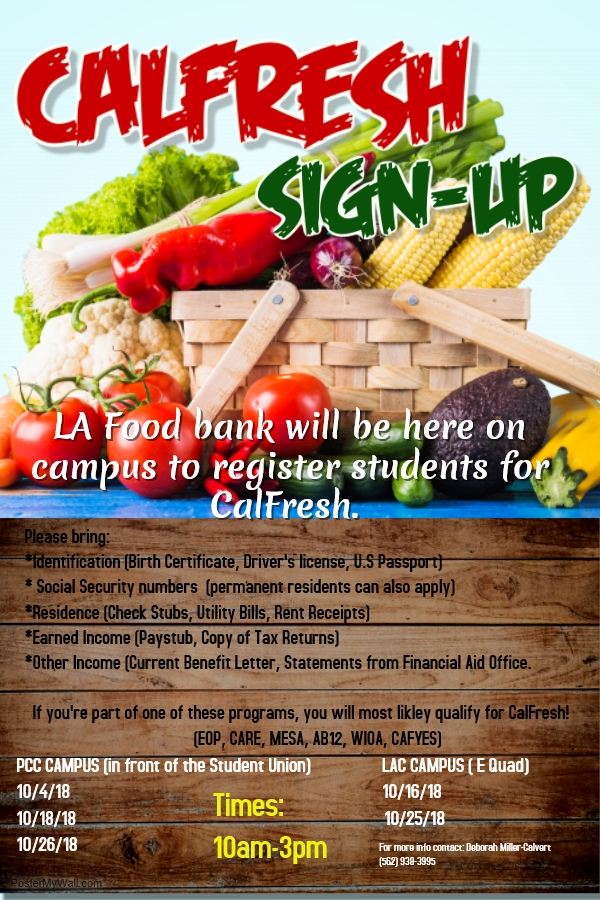 LA Food bank will be here on campus to register students for CalFresh.
LAC Campus (E Quad)
Times 10am-3pm
10/16/18
10/25/18
Please bring:
Identification (Birth Certificate, Driver's license, U.S. Passport)
Social Security numbers (permanent residents can also apply)
Resident (Check stubs, utility bills, rent receipts)
Other Income (Current benefit letter, statements for Financial Aid Office)
If you're part of one of these programs, you will most likely qualify for CalFresh! (EOP, Care, MESA, AB12, WIOA, CAFYES)
For more info contact Deborah Miller-Calver at 562-938-3995
---
If you require accommodations, please contact the Disabled Students Programs & Services (DSPS) at least 72 hours prior to the event at (562) 938-4558 or (562) 938-4833 (TTY) or dsps-staff@lbcc.edu. If you require sign language interpreting services, please contact Stephanie Bonales at sbonales@lbcc.edu or (562) 938-4918 at least 7 days prior to the event.