Coping & Connecting During COVID-19
A workshop for former foster youth LBCC students facilitated by Mental Health Clinician Brianna Reyes.
Learn about boundaries and ways to set healthy boundaries.
Learn techniques on coping with intense emotions.
Learn techniques to support your mental health.
Learn tips on connecting with others while remote learning.
Workshop Dates:
Impact of COVID-19 on Mental Health – Thu, Oct. 8
Building My Connections – Thu, Oct. 22
Maintaining Healthy Relationships - Thu, Nov. 5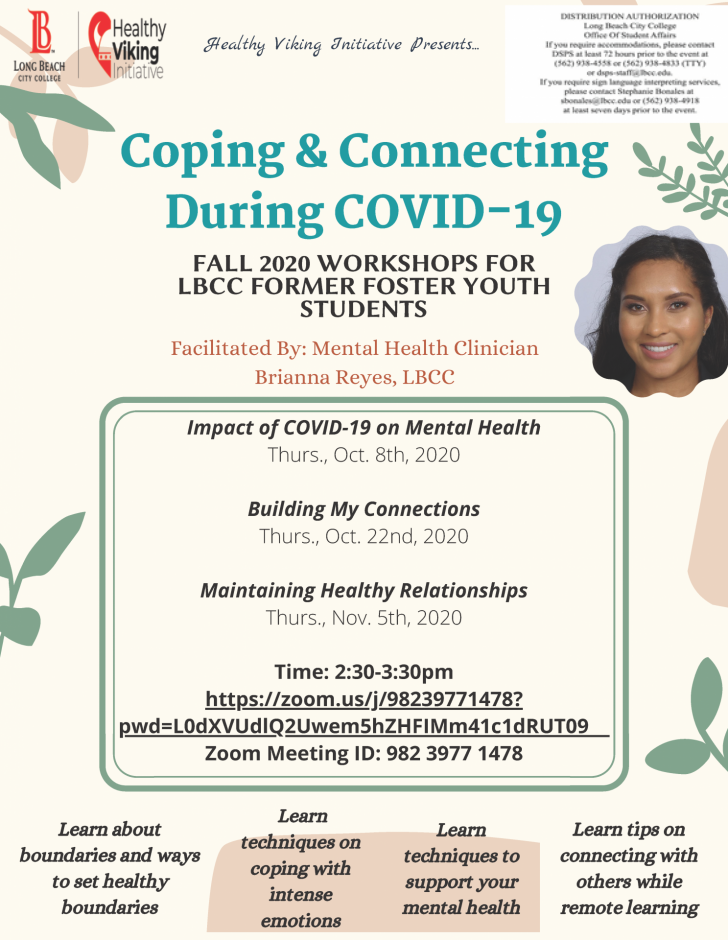 ---
GENERAL ANNOUNCEMENT:
Please note for Accommodations: At least 72 hours prior to the event, (562) 938-4558 (voice), (562) 353-4217 (videophone), & dsps-staff@lbcc.edu // Sign Language Interpreting, please contact Stephanie Bonales at sbonales@lbcc.edu or (562) 938-4918.
Communication Access Realtime Translation (CART) services, 5 business days prior to the event, please contact HR Analyst: Jaymee Hunt 562-938-4547 | j2hunt@lbcc.edu or Sonia Leticia Vélez 562.938.4323 | svelez@lbcc.edu. *requests are based on provider availability*