Faculty Assistant Mentoring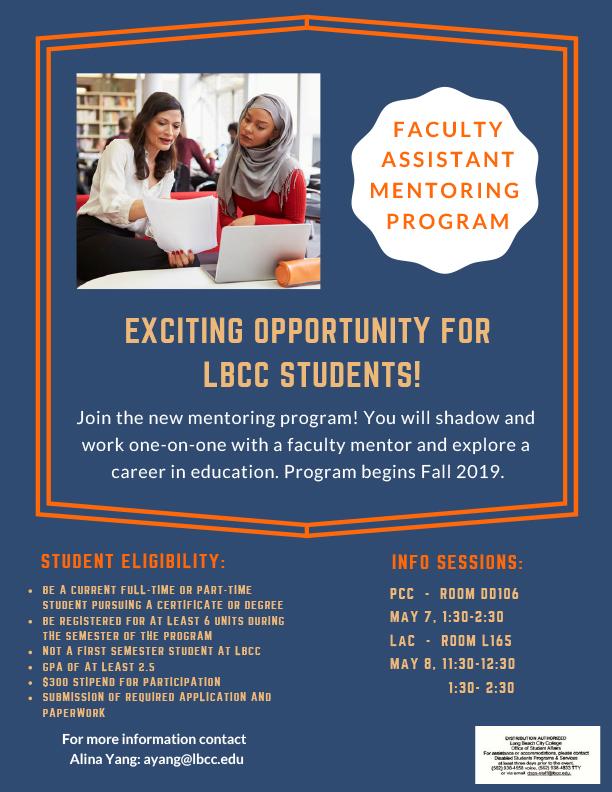 Time: May 7, 1:30 pm - 2:30 pm
Location: PCC, DD-106
Time: May 8, 11:30 am – 12:30 pm & 1:30 pm – 2:30 pm
Location: LAC, L-165
Join the new mentoring program! You will shadow and work one-on-one with a faculty mentor and explore a career in education. The program begins Fall 2019.
student Eligibility:
- Be a current full-time or part-time student pursuing a certificate or degree.
- Be registered for at least 6 units during the semester of the program,
- Not a first semester student at LBCC.
- GPA of at least 2.5.
- $300 stipend for participation.
- Submission of the required application and paperwork.
For more information please contact alina yang.
---
GENERAL ANNOUNCEMENT:
Please note for Accommodations: At least 72 hours prior to the event, (562) 938-4558 (voice), (562) 353-4217 (videophone), & dsps-staff@lbcc.edu // Sign Language Interpreting, please contact Stephanie Bonales at sbonales@lbcc.edu or (562) 938-4918.
Communication Access Realtime Translation (CART) services, 5 business days prior to the event, please contact HR Analyst: Jaymee Hunt 562-938-4547 | j2hunt@lbcc.edu or Sonia Leticia Vélez 562.938.4323 | svelez@lbcc.edu. *requests are based on provider availability*