Midnight Masquerade – Viking in Disguise
LBCC's Homecoming 2022
You're invited to LBCC's Homecoming 2022 Midnight Masquerade Viking in Disguise.
LBCC is back and stronger than ever! Be prepared for a week of rallies and the homecoming game!
Give-Aways
Activities
Royal Court
Food
Music
RALLY #1
RALLY #2
TAILGATE
GAME
09/27/2022
12:00 p.m.
09/29/2022
12:00 p.m.
10/01/2022
4:00 p.m.
10/01/2022
6:00 p.m.
PCC
LAC
LAC
LAC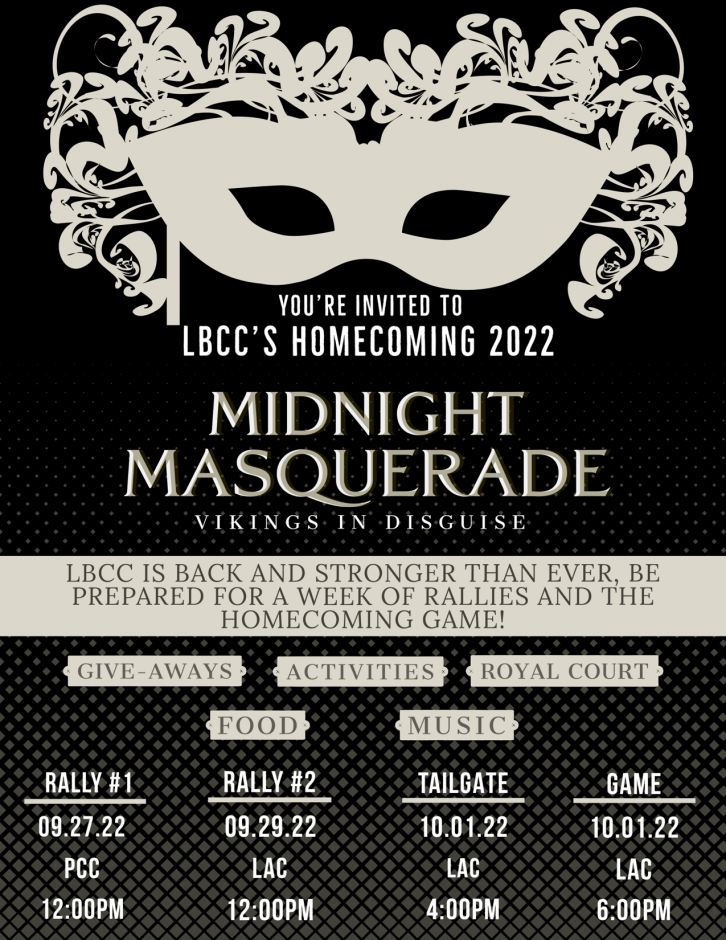 ---
GENERAL ANNOUNCEMENT:
If you require accommodations, please contact the Disabled Students Programs & Services (DSPS) at least 72 hours prior to the event at (562) 938-4558 or (562) 938-4833 (TTY) or dsps-staff@lbcc.edu. If you require sign language interpreting services, please contact Stephanie Bonales at sbonales@lbcc.edu or (562) 938-4918.
If you require Communication Access Realtime Translation (CART) services, please contact Sunita Shelly: sshelly@lbcc.edu / 562.938.4947 or Sonia Leticia Vélez: svelez@lbcc.edu at least 5 business days prior to the event. Please note requests are based on provider availability, the more advance notice the better.