Panel Of World Class Champions
Aim for Success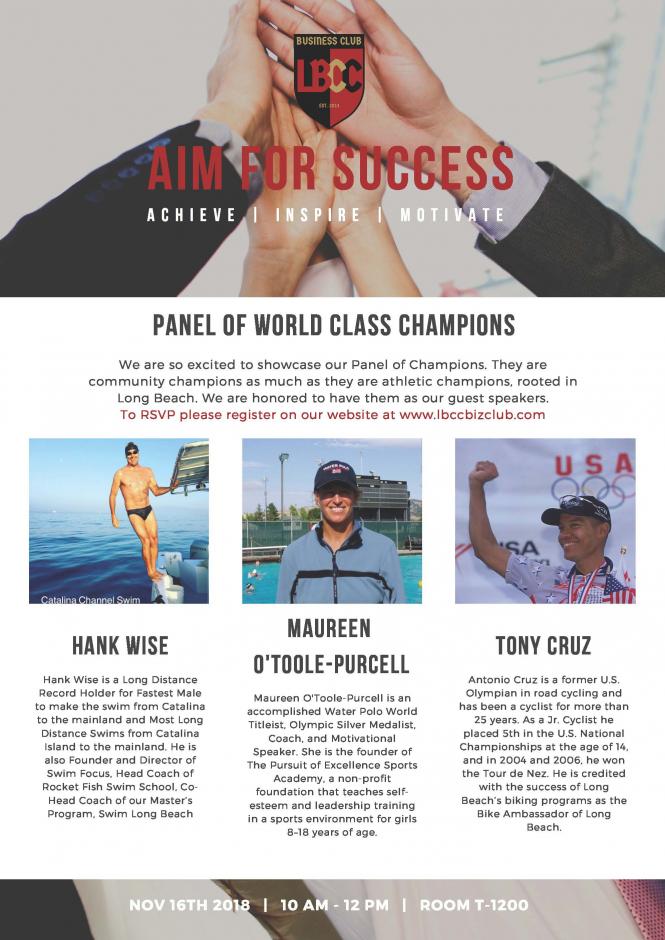 Panel Of World Class Champions
We are so excited to showcase our Panel of Champions. They are community champions as much as they are athletic champions, rooted in Long Beach. We are honored to have them as our guest speakers.
To RSVP please register at http://bit.ly/AIMFall18.
NOV 16TH 2018
10 AM – 12 PM
ROOM T-1200
Hank Wise is a Long Distance Record Holder for Fastest Male to make the swim from Catalina to the mainland and Most Long Distance Swims from Catalina Island to the mainland. He is also Founder and Director of Swim Focus, Head Coach of Rocket Fish Swim School, Co-Head Coach of our Master's
Program, Swim Long Beach
Maureen O'Toole-Purcell is an accomplished Water Polo World Titleist, Olympic Silver Medalist, Coach, and Motivational Speaker. She is the founder of The Pursuit of Excellence Sports Academy, a non-profit
foundation that teaches selfesteem and leadership training in a sports environment for girls 8–18 years of age.
Antonio Cruz is a former U.S. Olympian in road cycling and has been a cyclist for more than 25 years. As a Jr. Cyclist he placed 5th in the U.S. National Championships at the age of 14, and in 2004 and 2006, he won the Tour de Nez. He is credited with the success of Long Beach's biking programs as the Bike Ambassador of Long Beach.
---
STUDENTS ONLY
If you require Sign language interpreting services or Communication Access Realtime Translation (CART) services , please contact the event contact person and Stephanie Bonales at least 72 hours prior to the event at (562) 938-4918 or sbonales@lbcc.edu.

FACULTY AND STAFF ONLY
If you require Sign language interpreting services, please contact the event contact person and Rebecca Lucas at rlucas@lbcc.edu at least 5 business days prior to the event.

If you require Communication Access Realtime Translation (CART) services, please contact the event contact person and Jaymee Hunt at cart@lbcc.edu at least 5 business days prior to the event. *Please note requests are based on provider availability*