Planetarium Nights
Stargaze Indoors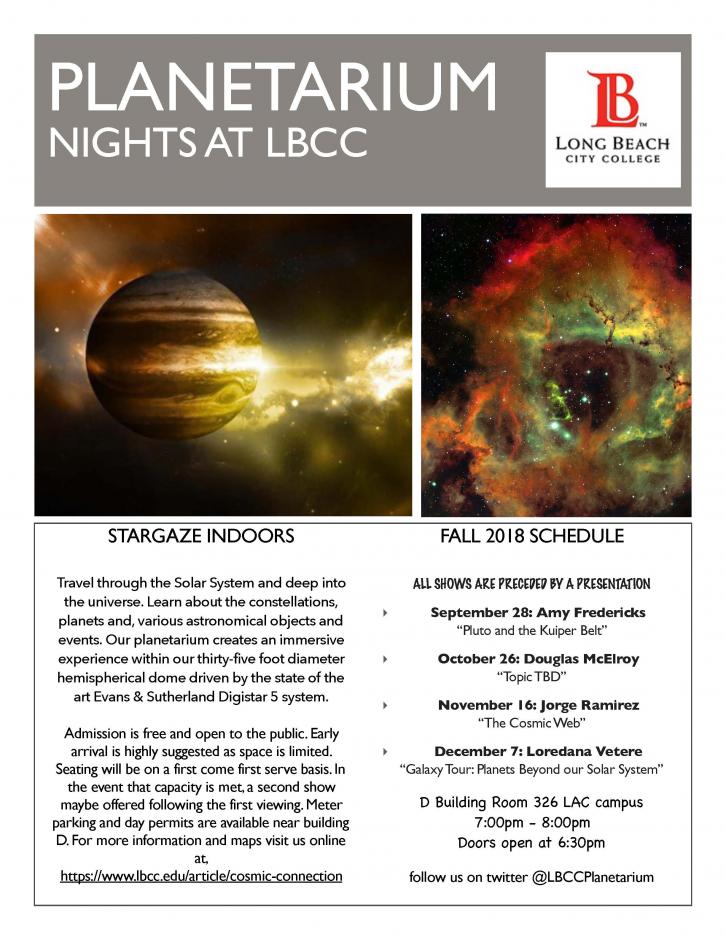 Travel through the Solar System and deep into the universe. Learn about the constellations, planets and, various astronomical objects and events. Our planetarium creates an immersive experience within our thirty-five foot diameter hemispherical dome driven by the state of the art Evans & Sutherland Digistar 5 system.
Admission is free and open to the public. Early arrival is highly suggested as space is limited. Seating will be on a first come first serve basis. In the event that capacity is met, a second show maybe offered following the first viewing. Meter parking and day permits are available near D Bldg.
FALL 2018 SCHEDULE
ALL SHOWS ARE PRECEDED BY A PRESENTATION
September 28: Amy Fredericks
"Pluto and the Kuiper Belt"
October 26: Douglas McElroy
"Topic TBD"
November 16: Jorge Ramirez
"The Cosmic Web"
December 7: Loredana Vetere
"Galaxy Tour: Planets Beyond our Solar System"
D Building Room 326 LAC campus
7:00pm – 8:00pm
Doors open at 6:30pm
follow us on twitter @LBCCPlanetarium
---
If you require accommodations, please contact the Disabled Students Programs & Services (DSPS) at least 72 hours prior to the event at (562) 938-4558 or (562) 938-4833 (TTY) or dsps-staff@lbcc.edu. If you require sign language interpreting services, please contact Stephanie Bonales at sbonales@lbcc.edu or (562) 938-4918 at least 7 days prior to the event.