Science Night 2021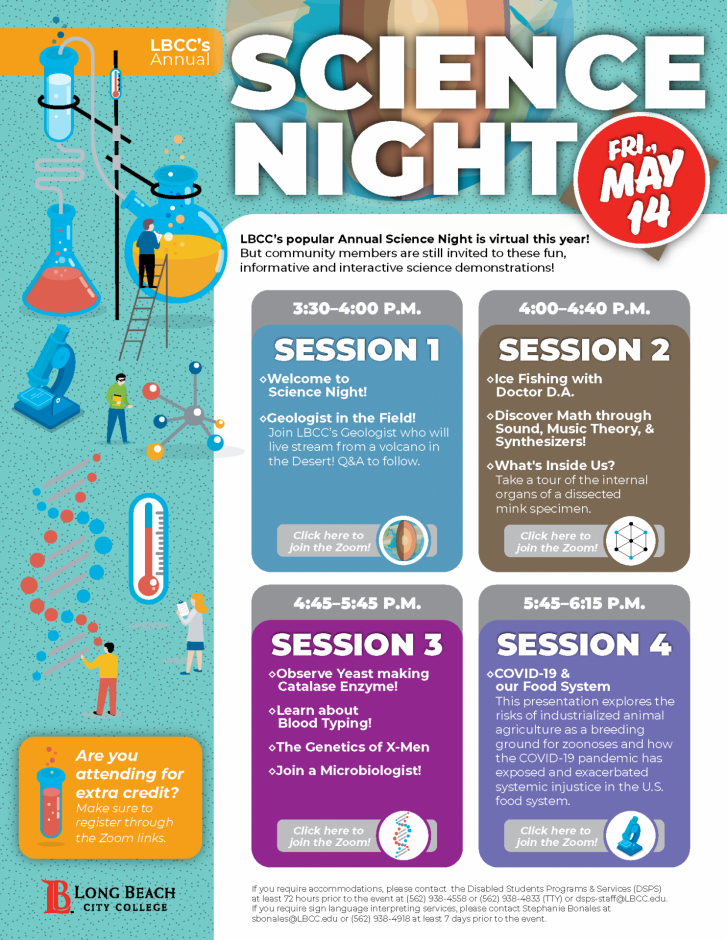 LBCC's popular Annual Science Night is virtual this year! But community members are still invited to these fun, informative, and interactive science demonstrations.
Session 1: 3:30 pm – 4:30 pm
Welcome to Science Night!
Geologist in the Field! Join LBCC's Geologist who will live stream from a volcano in the Desert! Q&A to follow.
Session 2: 4:00 pm – 4:40 pm
Ice Fishing with Doctor D.A.
Discover Math through Sound, Music Theory, & Synthesizers!
What's Inside Us?
Take a tour of the internal organs of a dissected mink specimen.
Session 3: 4:45 pm – 5:45 pm
Observe Yeast making Catalase Enzyme!
Learn about Blood Typing!
The Genetics of X-Men
Join a Microbiologist!
Session 4: 5:45 pm – 6:15 pm
COVID-19 & Our Food System – This presentation explores the risks of industrialized animal agriculture as a breeding ground for zoonoses and how the COVID-19 pandemic has exposed and exacerbated systemic injustice in the U.S. food system.
---
GENERAL ANNOUNCEMENT:
If you require accommodations, please contact the Disabled Students Programs & Services (DSPS) at least 72 hours prior to the event at (562) 938-4558 or (562) 938-4833 (TTY) or dsps-staff@lbcc.edu. If you require sign language interpreting services, please contact Stephanie Bonales at sbonales@lbcc.edu or (562) 938-4918.
If you require Communication Access Realtime Translation (CART) services, please contact Sunita Shelly: sshelly@lbcc.edu / 562.938.4947 or Sonia Leticia Vélez: svelez@lbcc.edu at least 5 business days prior to the event. Please note requests are based on provider availability, the more advance notice the better.