Set a date to QUIT SMOKING!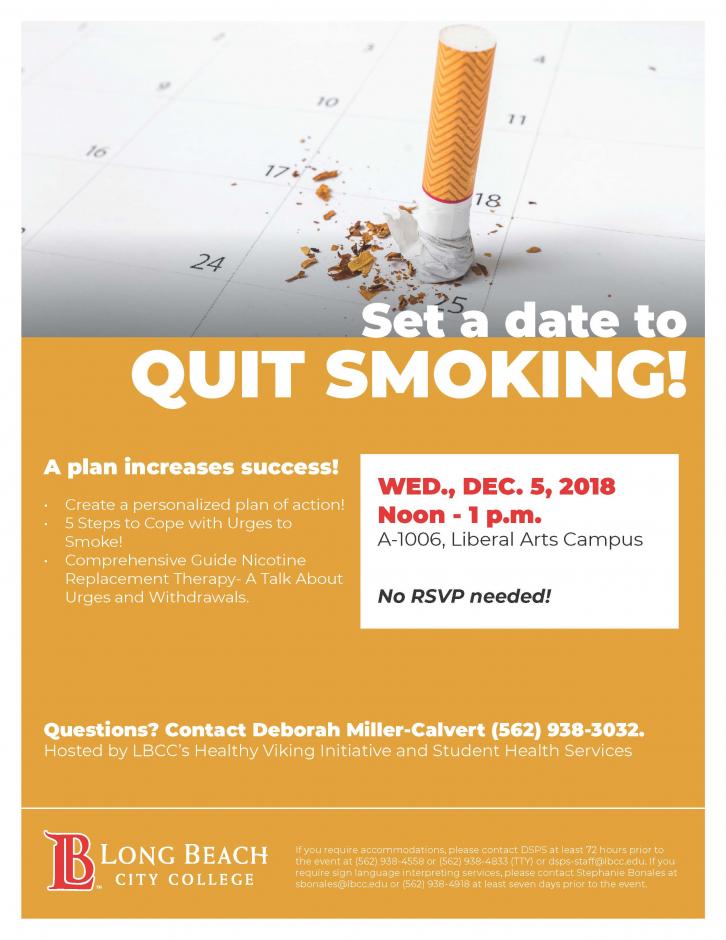 A plan increases success!
– Create a personalized plan of action!
– 5 Steps to Cope with Urges to Smoke!
– Comprehensive Guide Nicotine Replacement Therapy- A Talk About Urges and Withdrawals.
WED., DEC. 5, 2018
Noon – 1 p.m.
A-1006, Liberal Arts Campus
No RSVP needed!
Questions? Contact Deborah Miller-Calvert (562) 938-3032.
Hosted by LBCC's Healthy Viking Initiative and Student Health Services
---
GENERAL ANNOUNCEMENT:
Please note for Accommodations: At least 72 hours prior to the event, (562) 938-4558 (voice), (562) 353-4217 (videophone), & dsps-staff@lbcc.edu // Sign Language Interpreting, please contact Stephanie Bonales at sbonales@lbcc.edu or (562) 938-4918.
Communication Access Realtime Translation (CART) services, 5 business days prior to the event, please contact HR Analyst: Jaymee Hunt 562-938-4547 | j2hunt@lbcc.edu or Sonia Leticia Vélez 562.938.4323 | svelez@lbcc.edu. *requests are based on provider availability*