The Student Equity Speaker Series presents Oz Sanchez
Student Equity Speaker Series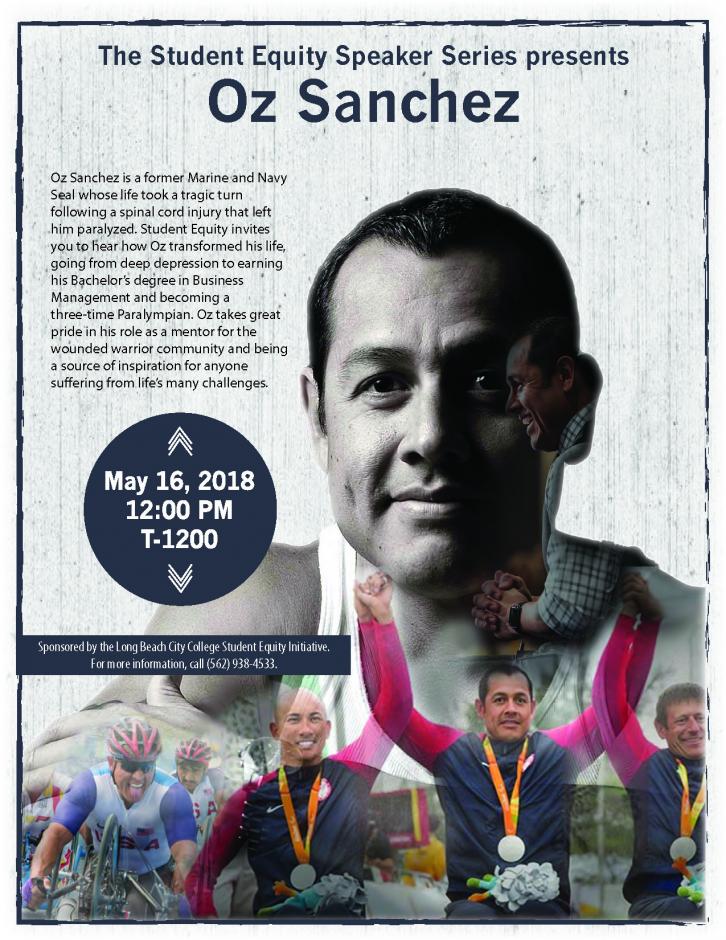 Oz Sanchez is a former Marine and Navy Seal whose life took a tragic turn following a spinal cord injury that left him paralyzed. Student Equity invites you to hear how Oz transformed his life, going from deep depression to earning his Bachelor's degree in Business Management and becoming a three-time Paralympian. Oz takes great pride in his role as a mentor for the wounded warrior community and being
a source of inspiration for anyone suffering from life's many challenges.
May 16, 2018, 12:00 p.m., T1200
RSVP through eventbrite at, https://oz_sanchez.eventbrite.com
Sponsored by the Long Beach City College Student Equity Initiative.
For more information, call (562) 938-4533.
---
GENERAL ANNOUNCEMENT:
Please note for Accommodations: At least 72 hours prior to the event, (562) 938-4558 (voice), (562) 353-4217 (videophone), & dsps-staff@lbcc.edu // Sign Language Interpreting, please contact Stephanie Bonales at sbonales@lbcc.edu or (562) 938-4918.
Communication Access Realtime Translation (CART) services, 5 business days prior to the event, please contact HR Analyst: Jaymee Hunt 562-938-4547 | j2hunt@lbcc.edu or Sonia Leticia Vélez 562.938.4323 | svelez@lbcc.edu. *requests are based on provider availability*